Published on September 2, 2014 by Jimmy Lichtenwalter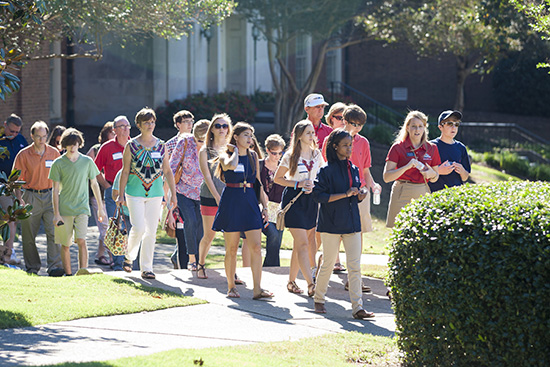 This fall, Samford University is hosting four Preview Days for high school students who are interested in attending the university.  
"Preview Days are a great way for students to picture themselves at Samford," said Elizabeth Primm, Samford's director of campus visits. "They'll receive valuable information about the application process, but also get a glimpse of our academic and social life."
The dates for the Preview Days have been set so they coincide with home football games, although a full day of activities is planned. This ensures that visiting students and their families can see Samford at its most exciting and active, Primm explained. It also gives them a perspective of the larger Samford community, Primm said.
Senior Preview Days, designed for current high school seniors:
Sept. 20 – Samford vs. Virginia Military Institute
Oct. 4 – Samford vs. Mercer
Nov. 8 – Samford vs. Western Carolina
Junior Preview Day, designed specifically for high school juniors:
Oct. 18 – Samford vs. Wofford
Sessions include information on the application process and financial aid, as well as panels of students sharing their Samford experiences, a community fair and campus tours. Guests enjoy tailgating on the University Quadrangle prior to the football game.
Primm encouraged interested students to register as soon as possible. 
Students unable to attend a Preview Day can schedule a daily visit. These visits include a campus tour, an information session and the chance to visit a class.
Jimmy Lichtenwalter is a journalism and mass communication major and a news and feature writer in the Office of Marketing and Communication.