Published on July 25, 2014 by Derrek Smith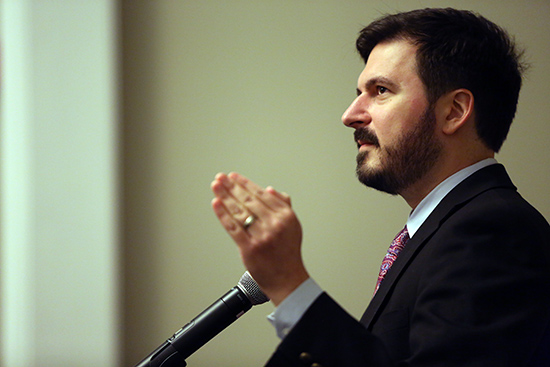 Woodrow Hartzog of Samford University's Cumberland School of Law brought his legal expertise to Washington, D.C.  July 24 for an Oversight and Government Reform Committee Congressional hearing on the Federal Trade Commission (FTC) and its Section 5 Authority: Prosecutor, Judge and Jury.
The testimony was broadcast by C-Span.
The hearing was a result of a whistleblower. Hartzog testified on behalf of his academic research and was not representing any entity. Hartzog and coauthor Daniel J. Solove of the George Washington University Law School, have spent years researching the FTC regulation of privacy and data security issues.
Hartzog made two main points:  the FTC's regulation has provided a "vital role in the U.S. system of data protection" and the pattern of the agency is it has acted "judiciously and consistently in outlining the contours if impermissible data protection practices."
Reading from a Republican briefing memo, U.S. Rep. Elijah Cummings of Maryland, ranking committee member, said the hearing was looking at "whether the FTC has the authority to pursue data security enforcement actions under its current Section 5 authority."  In Section 5, Congress gave the FTC the ability to protect American consumers from unauthorized use of consumer personal information.
"I really appreciate being allowed to testify about the scope of the FTC's authority to regulate data security," said Hartzog. "Data security is a complex problem and it will take the efforts of many to solve. The committee seemed to be passionate about the topic and I think that passion shows just how important it is to get data security policy right."
Hartzog and Solove recently wrote "The FTC and The New Common Law of Privacy,"  published by The Columbia Law Review. Hartzog is an internationally-recognized expert in the area of privacy, media and robotics law. He has been quoted or referenced in numerous articles and broadcasts, including NPR, the New York Times, the Los Angeles Times and USA Today. His recent work focuses on the complex problems that arise when personal information is collected by powerful new technologies and disclosed online.
The two hour and 45 minute hearing ended with Hartzog taking several questions from committee members.
Hartzog  is associate professor of law. He earned a bachelor's degree in journalism and mass communication in 2000 and his law degree in 2002 from Samford.
The entire hearing is available online at the committee's website , and The Washington Post has a recap of the hearing.
Derrek Smith is director of communication for Cumberland School of Law.