Published on February 12, 2014 by Philip Poole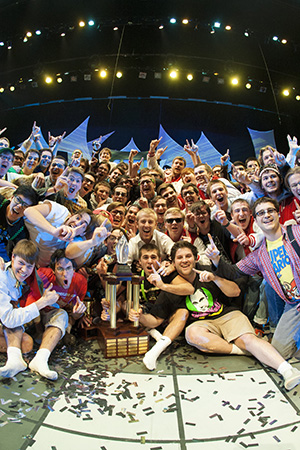 Posted by Philip Poole on 2014-02-12
Despite winter storms that have hit Alabama this week, Samford University's Step Sing will proceed as scheduled starting tonight (Feb. 13) and continuing through Saturday.
Samford is offering a live stream of the Feb. 15 evening performance of its annual student talent show. The live stream show begins at 7 p.m.
The live stream will include a preview show at 6:30 p.m. hosted by 1999 Samford alumnus Brad Radice and the 2014 Step Sing emcee Analeigh Horton, a sophomore communication studies major from Nolensville, Tenn. Radice is Samford's director of broadcast media.
Cost for a live stream ticket is $12.
The live stream will have multiple connection speeds available to use, depending on local networks, Radice said. Viewers will need at least a broadband or high-speed Internet connection. The live stream does not support Flash, so it cannot be viewed on iOS devices.
Radice encouraged live stream viewers to have viewing parties with other Samford alumni and parents and to send watch party photos via Twitter or Facebook with the hashtag #StepSingLiveStream.
Tickets for all four live performances are still available. Performances are at 7 p.m. Feb. 13-15 and at 2 p.m. on Feb. 15.
Tickets for the Thursday show are $20 for floor seats and $23 for balcony seats, while the weekend shows (Friday, and Saturday) are $26 for floor seats and $30 for balcony seats. Balcony seats are sold out for the Thursday and Saturday evening performances.