Posted by Mary Wimberley on 2014-10-21
Australian theologian and author Peter Adam will present the 2014 Reformation Heritage Lectures sponsored by Samford University's Beeson Divinity School Oct. 28-30.  The public is invited free of charge.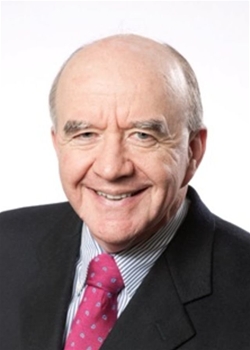 Adam, vicar emeritus of St. Jude's Anglican Church in Melbourne, Australia, and canon of St. Paul's Cathedral, will speak on the theme, "Thomas Cranmer and the Holy Scriptures."
His presentations are at 11 a.m. each day in Andrew Gerow Hodges Chapel. The topics are: Tuesday, Oct. 28, "Preaching the Holy Scriptures," Wednesday, Oct. 29, "Reading the Holy Scriptures," and Thursday, Oct. 30, "Praying the Holy Scriptures."
Prior to his present posts, Adam was principal of Ridley Melbourne, a Christian theological college, from 2002 to 2012, and vicar of St. Jude's from 1982 to 2002. He continues a ministry of preaching, writing and encouraging people in ministry.
Adam's publications include Ezra-Nehemiah: Walking in God's Words, The Message of Malachi, The Majestic Son: A Commentary on Hebrews (Revised Edition), Written for Us: Receiving God's Words in the Bible, Hearing God's Words: Exploring Biblical Spirituality and Speaking God's Words: A Practical Theology of Preaching.
He holds a master's degree in theology from King's College London and a Ph.D. from Durham University.
Beeson sponsors the Reformation Heritage Lectures each year during Reformation Week. The Protestant Reformation of the 16th century was a tremendous movement of spiritual and ecclesial renewal, which called the church back to its biblical and evangelical roots.
Thomas Cranmer was a 16th-century leader of the English Reformation and archbishop of Canterbury who was responsible for creating the Book of Common Prayer. When the Roman Catholic Queen Mary I ascended to the throne, Cranmer was accused of promoting Protestantism and tried for treason.  He died a martyr for the principles of the English Reformation and is one of 16 heroes of the Christian faith who are depicted in paintings in the dome of Beeson's Hodges Chapel.
For information contact James Pounds at jcpounds@samford.edu or (205) 726-2338.