Published on February 4, 2015 by Jimmy Lichtenwalter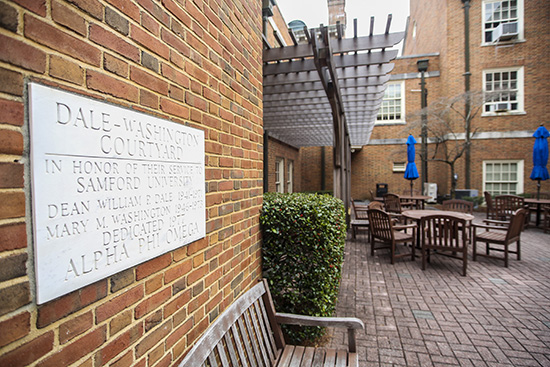 Tucked away outside the Beeson University Center Food Court, the Dale-Washington Court is one of Samford University's hidden secrets.
On a beautiful sunny day, it is the perfect place to have lunch or get some studying or reading done. The Court is quiet, secluded,and in a part of campus that doesn't attract the same amount of foot traffic as Ben Brown Plaza.
Dale-Washington Court is named after two members of Samford's faculty: Dean William P. Dale and Mary M. Washington. Both were professors in the university's history department: Dale, who also served as academic dean, from 1941 to 1971, and Washington from 1946 to 1973 when she died while still serving to the university.
The Square itself was dedicated to the two professors in 1977 by the national coeducational service organization Alpha Phi Omega.
If you are  looking for a tranquil place to spend a beautiful afternoon, enjoy an outdoor picnic or study quietly, head to the Dale-Washington Court.
Jimmy Lichtenwalter is a journalism and mass communication major and a news and feature writer in the Office of Marketing and Communication.
Editor's note: This is one in a periodic series on "hidden gems" on the Samford University campus.