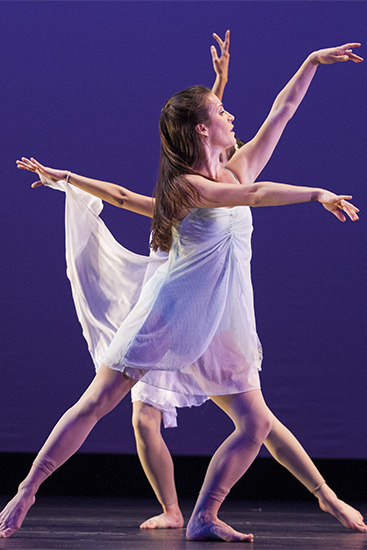 Posted by Philip Poole on 2015-02-03
By Bailey Fuqua
Samford University's Michael J. and Mary Anne Freeman Theatre and Dance Series will feature dance performances Feb. 6-8 in Harrison Theatre. The show, "Light/Light," will begin at 7:30 p.m. on Friday and Saturday and at 2:30 p.m. on Sunday.
Tickets are $12; $6 for students.
The concert will feature eight pieces in a variety of dance styles ranging from classical ballet and modern to contemporary and American jazz. Samford students, Arova Contemporary Ballet, Sanspointe Dance Company and Briarwood Ballet's Ballet Exaltation will perform during the concert.
"Our concert's title 'Light/Light' was selected to give our collaborators a common seed to create from. Dealing with thematic ideals of weightiness and illumination and how that can be expressed through movement is an exciting challenge and has resulted in some truly beautiful work," said Clayton Winters, director of musical theater and dance minor coordinator. "Our production will run just under an hour and is a great opportunity to take in some great art and still make it out in time for your dinner reservations."
Bailey Fuqua is a journalism and mass communication major and a news and feature writer in the Office of Marketing and Communication.