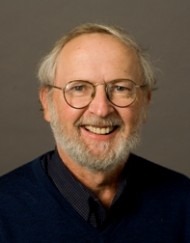 Posted by Philip Poole on 2015-03-24
Noted historian and author George Marsden will deliver Samford University's annual Andrew Gerow Hodges Lecture in Ethics and Leadership April 1. 
Marsden, who is professor emeritus of history at the University of Notre Dame, will speak at 4:30 p.m. in Brock Recital Hall.  His lecture is titled "Beyond Liberalism and the Culture Wars: A More Inclusive Pluralism" and is open to public.  
Marsden also will meet with students are to discuss the  late theologian C.S. Lewis' work at a "Mere Christianity Coffee Hour" April 2 at 1 p.m. in Reid Commons.  
Marsden's studies focus on the interaction between Evangelical Christianity and American culture.  His 2003 nonfiction work, Jonathan Edwards: A Life, was awarded the Bancroft Prize and the Merle Curti Award.  Marsden is a graduate of Haverford College, Westminster Theological Seminary and Yale University, where he received his doctorate. 
The Hodges Lecture is sponsored by Samford's Frances Marlin Mann Center for Ethics and Leadership.