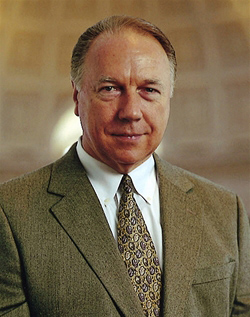 Posted by Betsy Childs on 2015-03-11
Allen P. Ross, professor of Old Testament and Hebrew in Samford University's Beeson Divinity School, will present the university's 26th annual Biblical Studies Lectures March 24-26.
Ross will speak each day at 11 a.m. in Andrew Gerow Hodges Chapel, and the lectures are open to the public.
The theme for the 2015 lectures is "From Prayer to Praise by the Resurrection: Lectures on the Psalms." Daily titles are "The Disturbing Problem of Unanswered Prayer," based on Psalm 22, on Tuesday; "The Glorious Celebration of Answered Prayer," based on Psalm 118, on Wednesday; and "The Growing Confidence of Faithful Prayer," based on Psalm 16, on Thursday.
Ross has taught at Samford since 2002. He earned his doctor of philosophy degree at Cambridge University. A noted author, he also has contributed numerous articles to scholarly journals. Previously, he taught at Trinity School for Ministry and Dallas Theological Seminary, and served as director of the Christian Leadership Center, Tallahassee, Florida. With an earlier background in Baptist and Presbyterian churches, he has been associated with the Episcopal Church since 1979.
The Biblical Studies Lectures are one of three annual lecture series sponsored by Beeson Divinity School, with speakers rotating between Old and New Testament scholars.