Published on March 4, 2015 by Bailey Fuqua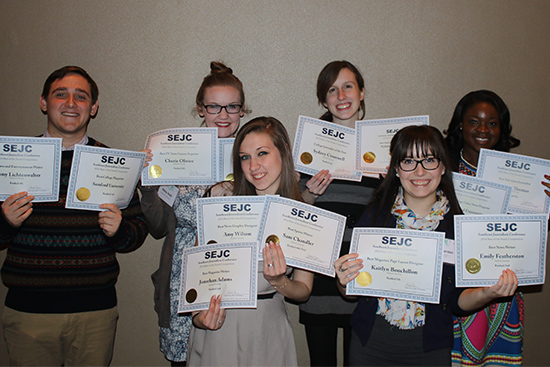 Samford University journalism students won multiple honors for their work in student media at the Southeast Journalism Conference (SEJC) Feb. 27-28. 
Samford earned 15 awards in the Best of the South Collegiate Competition, in which 33 schools and 523 students competed.  
"I was thrilled with how our student media, SNN, Exodus and the Crimson matched up against the student media at some of the biggest and most recognized journalism programs in the South," said Bernie Ankney, chair of the journalism and mass communication department. "To place here is an exceptional accomplishment because you are competing against programs that are 10 to 15 times Samford's size." 
Sydney Cromwell, a senior journalism and mass communication major from Murfreesboro, Tennessee, won fourth place in the category of Best Multimedia Journalist, third in the category of Journalist of the Year and first in the Sports Photojournalism Championship. 
Emily Featherston, a junior journalism and mass communication major from Lookout Mountain, Tennessee, received an honorable mention in the Page Layout Championship and won second place in the category of Best News Writer. 
"I think this competition just serves to demonstrate the strength of the Samford JMC department," said Jimmy Lichtenwalter, a junior journalism and mass communication major from Johns Creek, Georgia.
Lichtenwalter placed fourth in the Best Arts & Entertainment Writer category. 
"As a whole the department did incredibly well at SEJC," he said. "We have some talented writers who are receiving great instruction at Samford." 
Other SEJC Student Awards:
Best College Video News Program: 9th place - SNN
Best College Magazine: 3rd place -- Exodus Magazine
Best TV Journalist: 9th place - Yvonne Gross
Best Newspaper Page Layout Designer: 7th place - Grace Miserocchi
Best News Graphic Design: 6th place - Amy Wilson
Best Magazine Layout Designer: 5th place - Kaitlyn Bouchillon
Best Sports Writer: 4th place - Sam Chandler
Best TV News Feature Reporter: 4th place - Cherie Olivier
Best Magazine Writer: 3rd place - Jonathan Adams
Copy Editing Championship: 3rd place - Halley Smith
Bailey Fuqua is a journalism and mass communication major and a news and feature writer in the Office of Marketing and Communication.