Published on March 17, 2015 by Bailey Fuqua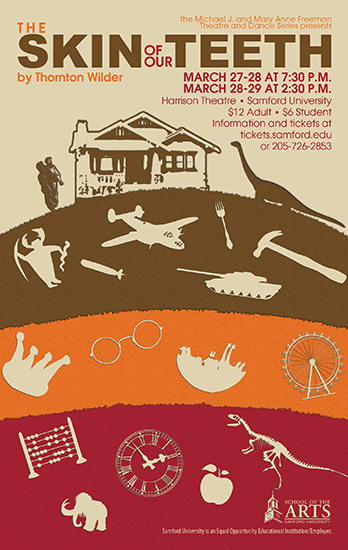 Samford University's Michael J. and Mary Anne Freeman Theatre and Dance Series will present "The Skin of Our Teeth," opening March 27. Written by Thornton Wilder, the play won the 1943 Pulitzer Prize for Best Drama and highlights elements of the Theatre of the Absurd and improvisational theatre.
Performances are March 27-28 at 7:30 p.m. and March 28-29 at 2:30 p.m. in Samford's Harrison Theatre. Tickets are $12 and only $6 for students.
The play explores the subject of family against the backdrop of life's great challenges including social change, war and the media, according to Don Sandley, Department of Theatre and Dance chair.
"We selected the play because our professor of theatre and director of design Eric Olson wanted to take on the rare challenge of directing and designing every aspect of the play as a sabbatical project," Sandley said. "The play's production values -- set, lights, costumes and sound -- will be extremely ambitious and creative."
 "We are sure the audience will find laughter, wonder and conversation from this production," said Sandley. "Wilder challenges his audience to rethink the things we take for granted."
Bailey Fuqua is a journalism and mass communication major and a news and feature writer in the Office of Marketing and Communication.