Published on April 15, 2015 by Bailey Fuqua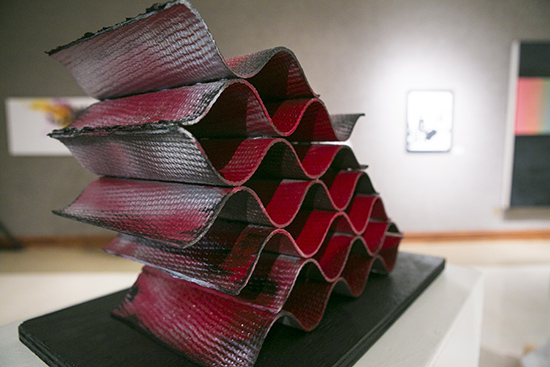 Student artwork is currently on display in Samford University's annual Juried Student Art Show. The gallery runs until Tuesday, April 28 with an announcement of the winning pieces and honorable mentions during the closing reception.
All students who enrolled in an art class during the 2014-15 academic year submitted artwork for consideration in the show. Several hundred pieces were submitted and 44 were selected to be featured in the gallery by this year's guest juror, Dale Lewis. Lewis' woodwork exhibition, Whimsical Elegant Wood was recently displayed in the gallery's Visiting Visual Artist Series.
Lewis selected the Best of Show, 1st, 2nd, 3rd place and 6 honorable mentions based on several factors including design, construction, materials and message.
"I enjoy seeing the excitement that students experience through the process of entering the show and the pride they take in their work," said gallery director Robin Snyder. "The students have the experience of entering a juried show, going through the selection process, and also understanding and accepting rejection which is all a part of the world of art."
Snyder said the juried show is just one of the many ways the art department prepares its students for the challenges that await them as visual artists.
The Juried Student Art Show is open to the public Monday through Friday from 9 a.m.-4 p.m. A closing reception will be held from 4-6 p.m. April 28 with an announcement of academic and scholarship awards at 5 p.m.
 
Bailey Fuqua is a journalism and mass communication student and a news and feature writer in the Office of Marketing and Communication.