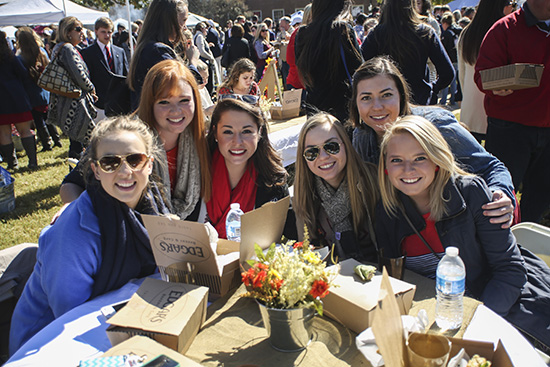 Posted by Philip Poole on 2015-04-15
By Jimmy Lichtenwalter
Through the end of spring and into summer, Samford University has a variety of events planned for alumni, parents and students.
These events will take place in Birmingham, Montgomery, Atlanta, Nashville and Washington, D.C. The calendar includes Brock School of Business network opportunities and three baseball games.
Senior Class Reception
Tuesday, May 5
Samford President's Home
6-8 p.m.
Washington, D.C. Gathering
Nationals vs. Braves baseball game
Friday, May 8
Nationals Park, 1500 South Capitol Street, SE
Game time: 7:05 p.m. EDT
Birmingham Alumni Event
in conjunction with Samford vs. Western Carolina baseball game
Saturday, May 9
Joe Lee Griffin Field
2:00 p.m.
Samford Business Network Event, Nashville
Tuesday, May 12 
Amerigo, 1920 West End Avenue
11:30 a.m.– 1:00 p.m.
Samford Business Network Event, Atlanta
Tuesday, May 26 
Seasons 52, 3050 Peachtree Rd NW
Complimentary valet is offered
6-8 p.m. EDT
Details will be announced later for the June 11 event in Montgomery, Alabama, according to Molly McGuire, Samford's director of alumni programs.
Jimmy Lichtenwalter is a journalism and mass communication major and a news and feature writer in the Office of Marketing and Communication.