Published on May 16, 2015 by Philip Poole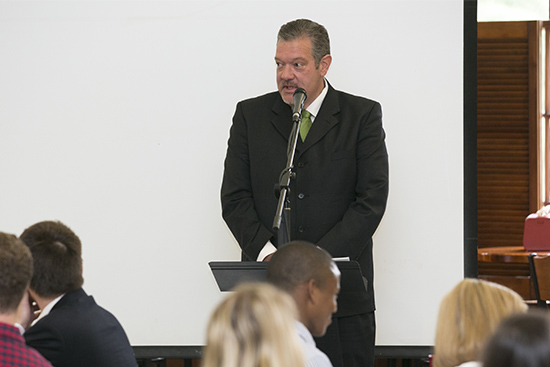 In what is becoming an important tradition of Samford University's commencement weekend, graduating seniors, faculty and administrators gathered May 15 for a prayer breakfast that focused on faith, scholarship and friendship.
Larry Thompson, art department chair, related a story about reconnecting with his best childhood friend after a 24-year "gulf of silence." Noting that the friendship deteriorated because his friend was on a "destructive path," Thompson said he told his friend that he loved him and would be available if he was ever needed. When the two finally reconnected, they "picked up right where they left off," Thompson said.
Thompson posed the question, "What does this story have to do with today?"
"It makes me think of my relationship with some of you in this room," he explained, noting that students will graduate, relationships will change and time will pass.
"When you need me, I will be here. I will always be your friend. And, the next time we see each other, we will pick up right where we left off," he concluded.
Jules Huff, a worship and music major from Spartanburg, South Carolina, shared stories of a spring semester filled with medical challenges that were easier to handle because of Samford employees and classmates who rallied around her.
"One of Samford's most important qualities is nurturing people," Huff said. "We have met friends who will continue to be with us for the rest of our lives."
David Osula, a biochemistry major from Jasper, Alabama, told of his family background as the son of educated immigrants from Nigeria.
"Education was very important in our household," Osula said, sharing the story of how his parents made him and his siblings do workbooks for one hour each day during school holidays to help them prepare for standardized tests.
Noting his parents' education provided the tools for them to be successful in America, Osula encouraged his fellow graduates to be in a "continual state of learning."
"This may be the end of your formal education, but it should not be the end of your education," he added.
Samford President Andrew Westmoreland encouraged graduates to stay connected to each other and to Samford.
"Don't think for one minute that this is the end of anything," Westmoreland said. "It is the beginning of everything. We want you to do well. We want you to go on. We'll be here, and this place will be here. Continue your association with each other and with this place."
Other speakers included Barbara Cartledge, assistant dean for academic programs, Brock School of Business; Kendall McPheeters, a biology major from Owens Cross Roads, Alabama; and Jason Wallace, associate professor of history and director of the Core Texts program.
The breakfast is hosted by Westmoreland and coordinated by the Office of Spiritual Life.