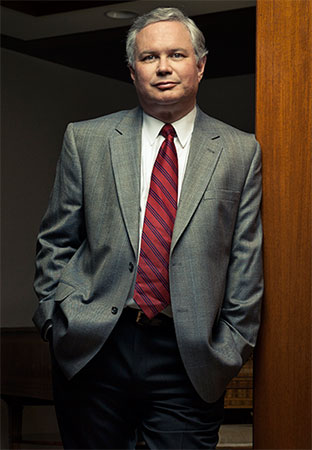 Posted by Philip Poole on 2015-05-14
The appointment of J. Michael Hardin as Samford University's provost has brought congratulations and affirmation. Hardin, who currently serves as dean of the Culverhouse College of Commerce at the University of Alabama in Tuscaloosa, assumes his new Samford role on July 1.
Dr. Howard Finch, Dean, Samford University's Brock School of Business:
"Samford University is indeed fortunate to have someone with this breadth of knowledge and experience to serve as our next provost.  Mike Hardin's academic lineage, spanning philosophy, mathematics, public health and business, make him uniquely qualified to serve as chief academic officer at this critical inflection point in the university's history."
Dr. Denise Gregory, Director of Diversity and Intercultural Initiatives, Samford University: *
"Dr. Hardin has diverse academic leadership roles which will be great assets to our community. I am looking forward to continuing to build on the work of the office. Using the combined efforts of Dr. Hardin's past work of supporting diversity programming and fundraising, we are excited about achieving the goals of the Office of Diversity and Intercultural Initiatives. 
Dr. Emily Hynds, Associate Professor of Mathematics, Samford University's Howard College of Arts and Sciences: *
"Dr. Hardin brings an exceptional array of personal, academic, and administrative talent and experience to the role of provost here at Samford University. I could not be more confident or excited about the choice, and I am eternally grateful to have been part of the process. "
Dr. Rick Lance, Executive Director, Alabama State Baptist Convention:
"Dr. Hardin is an outstanding Christian educator. He brings a wealth of experience academically and administratively. I have known Mike for more than three decades, and I deeply admire and appreciate him and his family. He will contribute much to the far-reaching, positive influence of Samford University."
Dr. Sharron Schlosser, Professor of Nursing, Samford University's Ida V. Moffett School of Nursing: *
"Dr. Hardin has a wealth of experience, both personally as a faculty member and as an administrator. His strong liberal arts background and experience with providing online education and desire to blend his Christian perspective with higher education are strong assets as he assumes his new role and provides visionary leadership for all academic programs at Samford University."
Dr. Dennis Sansom, Chair, Samford University's Department of Psychology: *
"His degrees in philosophy, mathematics and theology, coupled with his experience working in a school of public health and a school of business, have framed an understanding of the importance of a strong liberal arts foundation and its role in shaping the academic and intellectual goals of the overall university."
Dr. Andrew Westmoreland, President, Samford University:
"In accepting this assignment, Dr. Hardin brings to Samford a wealth of experience in higher education, an innate appreciation for our mission, genuine affection for the time-honored role of faculty, and an understanding that we are all here to shape and provide a superior education for our students."
Dr. Judy Bonner, President, University of Alabama, Tuscaloosa:
"We appreciate Dr. Hardin's leadership as dean of the Culverhouse College of Commerce, as well as his many years of service on our faculty. Dean Hardin is a visionary leader with bold ideas. Under his guidance, the college has grown in both numbers and quality. As a consequence, its programs are consistently ranked among the nation's best. We appreciate all that he has done at The University of Alabama and wish him well in his new position."
* Served as a member of the provost search committee