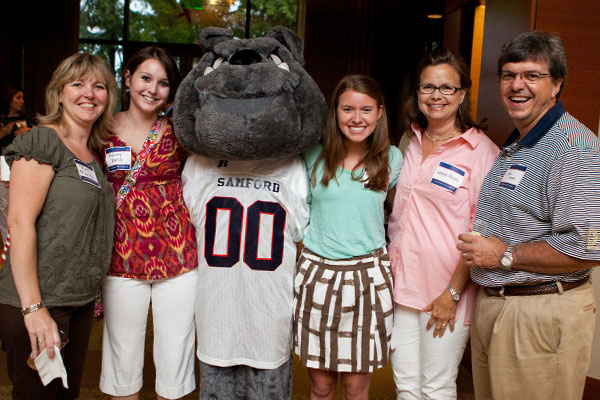 Posted by Philip Poole on 2015-06-10
By John Dickson
Samford University's Offices of Parent Programs and Admission are working to bring new members of the Samford community together in 17 different cities across the U.S. 
The Samford send-off parties allow incoming freshman and their families to make Samford connections in their area before they arrive on campus in August, according to Susan Doyle, Samford's director of parent programs. The events serve as a good opportunity for the students to interact with future classmates and also to learn more about their first year at Samford. 
"Our main goal is connect students and families to other students and families in their area," said Doyle. A student knowing as many people as possible on their first day was also one of Doyle's main hopes for these events.
Students and families become acquainted with fellow new Bulldogs from their area and often get to meet Samford alumni who have since relocated to the area. University representatives will also be attending each event. 
The parties begin July 12 in Mandeville, Louisiana, and wrap up Aug. 8 with the party in Chattanooga, Tennessee. 
To learn more about times and locations or to register for these events, go to: www.samford.edu/parents/send-off-parties
The schedule: 
Mandeville, Louisiana
Sunday, July 12 
Mobile, Alabama
Monday, July 13 
Memphis, Tennessee
Wednesday, July 15 
Houston, Texas
Thursday, July 16 
Tupelo, Mississippi
Thursday, July 16 
Austin, Texas
Friday, July 17 
Dallas, Texas
Saturday, July 18 
Los Angeles, California
Sunday, July 19 
Nashville, Tennessee
Wednesday, July 22 
Louisville, Kentucky
Thursday, July 23 
Huntsville, Alabama
Friday, July 24 
Atlanta, Georgia
Tuesday, July 28 
Montgomery, Alabama
Wednesday, July 29 
Tampa, Florida
Monday, Aug. 3 
Orlando, Florida
Tuesday, Aug. 4 
Charlotte, North Carolina
Friday, Aug. 7 
Chattanooga, Tennessee
Saturday, Aug. 8 
John Dickson is a news and feature writer in the Office of Marketing and Communication.