Published on August 4, 2015 by William Nunnelley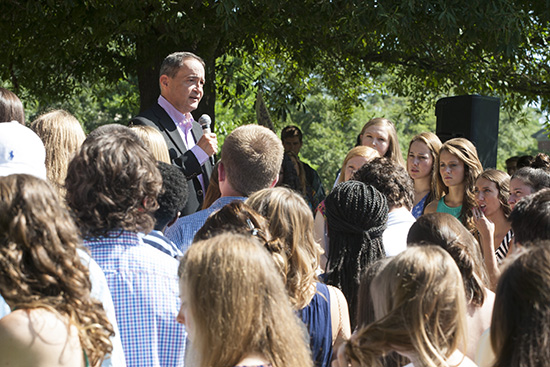 Samford University expects its largest class in history, more than 5,000 students, for the start of its 174th year in August. Included will be a record-sized class of more than 800 freshmen. The new students will move in Friday, Aug. 14, and the first day of classes will be Monday, Aug. 17.
Samford also will welcome 40 new faculty members and new provost Michael Hardin, who will also have faculty status in the Brock School of Business and the School of Public Health. Hardin formerly was dean of the Culverhouse College of Commerce at the University of Alabama, Tuscaloosa.  
Samford will open a grand new $25 million building for the Brock School of Business. The imposing four-story structure will be dedicated Friday, Sept. 4. A breathtaking glass atrium will be at the center of the structure, but according to Dean Howard Finch, "The real impact . . . will be an exciting learning and meeting environment that fosters outstanding business education for generations to come."  
Also scheduled to open is a new Art Lofts for painting, sculpture, ceramics and photography classes in the former Facilities Lower Shop building. The former Facilities Upper Shop has been demolished to make way for a 44-car parking lot adjacent to the Art Lofts. "We believe the Lofts are the appropriate name for a facility that will lift the ceiling of possibilities for our students and programs in art," said School of the Arts Dean Joe Hopkins.   
Samford also will open a temporary roadway to provide automobile and pedestrian access to the new home of the College of Health Sciences in the former Southern Progress property on the eastern side of the campus. The Lakeshore Drive entrance to the property remains open.  
Samford will open its women's soccer home season Friday, Aug. 21, at 7 p.m. against Boise State at the Samford Track and Soccer Stadium. It will open the football season Thursday, Sept. 3, at 6 p.m. against Central Arkansas in Seibert Stadium.