Published on September 25, 2015 by Mary Wimberley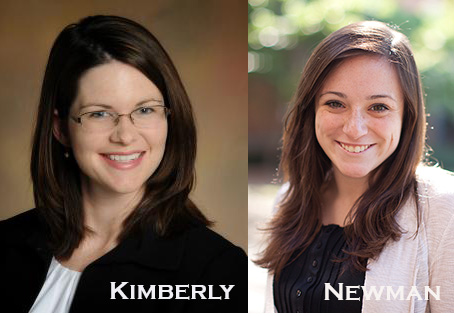 Samford University graduates Hannah Newman and Claire Kimberly have received accolades for top achievement from the National Council on Family Relations (NCFR).
Newman, a 2015 human development and family science graduate, won NCFR's Outstanding Undergraduate Research Paper Award for her senior research project, "The Relationship Between Parental Conflict Tactics and Sibling Conflict Tactics."
Papers were judged on uniqueness of research question, degree to which findings contribute to the field, clarity of writing, application of family theory, use of sound research methodology and other criteria. Newman will receive a $100 cash prize.
Newman is a field office intern in the aftercare department at International Justice Mission, a nongovernmental organization in Mumbai, India. She works on restoration of sex trafficking victims.
This marks the fourth consecutive year for a Samford graduate to receive the undergraduate research paper award, according to Samford human development and family life education department Chair Kristie Chandler.
Kimberly, who graduated Samford in 2007 with a communication studies major and a family studies minor, was named NCFR's Cindy Winter Scholarship Award recipient. The biannual award is given to a student or new professional member of NCFR who has shown outstanding leadership or service in family studies, human ecology, human development, family science or a related field.
Kimberly is an assistant professor in the department of child and family studies at the University of Southern Mississippi. She has served NCFR in multiple leadership roles and has given 15 presentations at NCFR annual conferences. She holds a master's degree in family studies and a Ph.D. in family science from the University of Kentucky.
She will be recognized for her achievement at the 2015 NCFR annual conference in November in Vancouver, British Columbia, Canada.