Published on September 30, 2015 by Cristina Almanza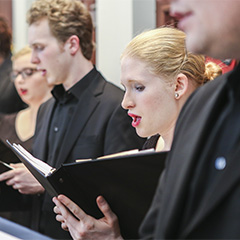 From The Big Friendly Giant to Samford Wind Ensemble, Samford Arts offers a wide range of performances in the arts over the next several days.
The Samford Wind Ensemble will perform Oct. 1 at 7:30 p.m. in Brock Recital Hall.  Admission is free.
Arts events continue on Friday, Oct. 2 at 5:30 p.m. with Samford's A Cappella Choir monthly Choral Vespers service in Andrew Gerow Hodges Chapel.
The Michael J. and Mary Anne Freeman Theatre and Dance Series debuts its season Oct. 2-4 with The Big Friendly Giant. Admission is $15 for the general public and $6 for students. Performances are at 7:30 p.m. on Friday and Saturday and 2:30 p.m. on Sunday.
Director Laura Byland said, "Bring the kids to this play and discover some of Dahl's most memorable characters from his classic book about a Big Friendly Giant and a little orphan named Sophie. The BFG and Sophie team up to save the children of England from the child-eating giants Bloodbottler, Fleshlumpeater, Bonecruncher, Meatdripper, Childchewer and Gizzardgulper, assisted by the Queen of England, and the heads of the army and air force with their helicopters. "