Published on November 11, 2015 by Philip Poole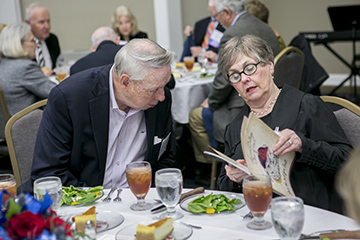 by Jimmy Lichtenwalter
As part of Samford University's 2015 homecoming, the Class of 1965 held its 50th reunion. This class was actually the last one to graduate from Howard College, which was renamed Samford University the following year. 
Forty-one people registered for the weekend, which was filled with many reunions of old friends and classmates. 
"I am so pleased with the campus," Gwen Malcom, who studied music, said. "It's beautiful." 
"It really still is beautiful place," agreed Ann Marchino, who studied sociology, and has two children who attended Samford. "I haven't been back to anything since the 25th reunion." 
"I just want to thank God for the opportunities he has blessed up with," said Richard Queen, a member of the committee that helped plan the reunion. "I also want to thank God for the positive input Samford or Howard has had on our lives." 
The lunch included recognition of certain attendees and ended with the alumni singing the Howard College Alma Mater. 
The class also participated in the Golden Bulldog brunch, which honors graduates of 50 years or more. 
Jimmy Lichtenwalter is a journalism and mass communication major and a news and feature writer in the Office of Marketing and Communication.