Published on November 9, 2015 by Philip Poole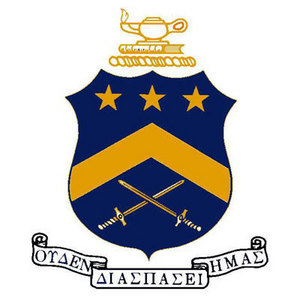 by Chris Griesedieck 
Samford University's Pi Kappa Phi fraternity celebrated the chapter's 90th anniversary Nov. 7 as part of Samford's 2015 homecoming weekend. More than 300 current members, alumni and guests attended the anniversary banquet. 
"This is a landmark event for us," said Gil Simmons, Samford Alumni Association president and Alpha Eta chapter alumnus. "With various alumni present from the '60s, '70s and '80s, I think every decade was represented here tonight." 
"It's important for greek organizations to receive recognition for their achievements, as they continue to support Samford University," added Simmons.  
Alumni Jack McDonald and James Smith gave historical reflections and mentioned how much the chapter has grown since they were in college. Including the new class of 36 associate members, the chapter currently has 115 members, the largest ever.  
While it is great to recognize chapter achievements such as winning Step Sing, McDonald acknowledged that what truly matters are the relationships built in Pi Kappa Phi that will last a lifetime.  
Chris Belman, outgoing historian, also led a chapter recognition and presented the faculty/staff member of the year award to Davis Presley, Samford's associate director of recruitment, and the alumnus of the year award to 1989 graduate Terry Dunagan of Birmingham. 
"Everything has come together to make us who we are," said David McTier, outgoing president.  "We're here 90 years down the road not only because of the active brothers of this fraternity, but because of the alumni, the national organization and because of Samford University."  
He added, "I know the lessons I'll carry with me for the rest of my life. Life is about moments of impact, moments that stick out in your mind.  My Pi Kapp experience has been filled with moments of impact." 
McTier said he is confident that Pi Kappa Phi at Samford will reach the 100th anniversary in 2025.  
Chris Griesedieck is a journalism and mass communication major and a member of Pi Kappa Phi. He reported for the Office of Marketing and Communication.