Published on November 11, 2015 by Emily Duval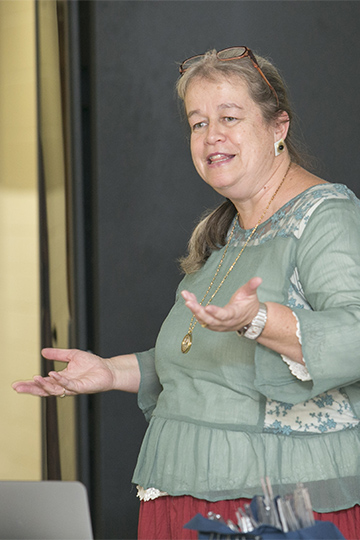 This year, Samford University's journalism and mass communication department (JMC) is celebrating 100 years. As part of the department's homecoming festivities, journalism faculty member and historian Julie Hedgepeth Williams gave a presentation detailing highlights of the department's history. 
Journalism got its start on the Howard College campus with student Jasper "Jack" Hutto, who was the editor for the Howard Collegian newspaper and established the Entre Nous yearbook in 1909. In 1915, Hutto returned to found Howard College of Journalism, the first school of journalism in the South. 
The audience for Williams' presentation included current students, faculty and many alumni. 
"I was so pleased to see so many people in the audience that were an actual part of the history I was speaking about," said Williams. 
For a time in the 1970s and early 1980s, the department was dismissed from campus and only existed through a few English department courses. In 1985, professor emeritus Jon Clemmensen was asked by then–university president Thomas E. Corts to bring the journalism department into the modern era. 
The last three JMC department chairs also spoke in a panel discussion. Clemmensen, David Shipley and current chair Bernie Ankney shared how they came to Samford along with a few comical anecdotes about their time as department chair. 
Ankney estimated 1,000 graduates have gone through the department since 1985. The department is ranked 43rd nationally by College Factual/USA Today. It is also one of three largest undergraduate departments on campus. 
"Our program is no longer exclusive to Alabama or the South. We are becoming a national program," said Ankney. 
Emily Duval is a journalism and mass communication major and a news and feature writer in the Office of Marketing and Communication.