Published on November 19, 2015 by Sean Flynt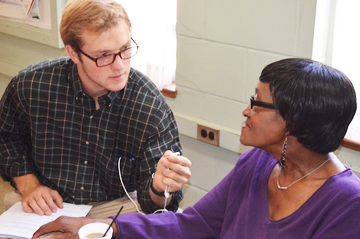 Samford University's Office of University Historian and University Library's Special Collection and University Archives Department have collaborated to create STORI, the Samford Traditions and Oral History Recording Initiative.
Program Director and Assistant University Historian Michelle Little said the STORI project is an opportunity to revitalize the oral history work begun at Samford in the 1970s. For four decades, history professors including Jim Brown, Wayne Flynt, Donald Wilson, Marlene Rikard and Jonathan Bass have led students in the recording of interviews with people from all walks of life in order to preserve their memories and perspectives.
The Special Collection and University Archives Department already houses more than 250 oral histories on Samford University history, Baptist history and Alabama history. Little said in coming months, she will work with faculty to develop new story collecting projects. With more than 47,000 Samford alumni and 5,000 current students who live, work, study and serve all over the world, there are many stories "at our front door," Little said. Many alumni, retired faculty and board members have been interviewed as part of the institutional research initiative leading up to Samford's 175th anniversary next year.
The STORI website currently focuses on Samford history, the mission field, faculty, Alabama's Black Belt, veterans and civil rights. It will continue to grow with the help of faculty and staff in various disciplines. University Archivist Jennifer Taylor is working with STORI on archival preservation and storage. History department chair and university historian Jonathan Bass and other history faculty are developing oral history methodology classes. Mathematics and computer science professor Brian Toone is creating platforms for digital access. Education professor David Little will collaborate with the project to develop curricula based on oral history interviews.
"STORI aims to create experiential learning opportunities that will engage Samford students in the local community in meaningful, unique ways," Little said. "These personal connections can cement an education experience, widen perspectives and preserve the mission of our university."