Published on November 6, 2015 at 9 a.m. by Mary Wimberley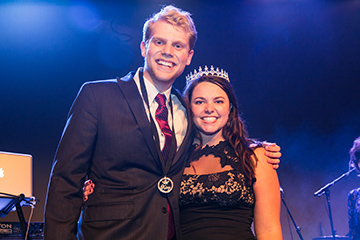 Lauren Elizabeth Sims and Walker Edmondson were named 2015 homecoming queen and king at Samford University Thursday, Nov. 5.
They were chosen by vote of the student body and crowned at the homecoming ball by Samford President Andrew Westmoreland and his wife, Jeanna. Sims and Edmondson will be recognized at various other events during homecoming weekend activities Nov. 6–8.
Sims, a senior journalism and mass communication/Spanish double major from Wildwood, Georgia, is the daughter of Karen and Cody Sims.
Edmondson, a history/religion double major from Oneonta, Alabama, is the son of Robin and Gray Edmondson.
The homecoming court also includes freshmen Jacob Gholson of Nashville, Tennessee, and Emily Madison Brown of Cullman, Alabama; sophomores Hollie LaShea Bennett of Cullman, Alabama, and Michael Austin Mohlenbrok of Tuscaloosa, Alabama; juniors Julia Elizabeth Haase of Roswell, Georgia, and Dillard Goodpasture Adams III, of Nashville, Tennessee; and seniors Margaret Campbell Terp of Temple Terrace, Florida, Taylor Kevin Chadwell of Memphis, Tennessee, Mary Beth Carlisle of Birmingham, and Jonathan William Faulks of Nashville, Tennessee.