Published on November 4, 2015 by Philip Poole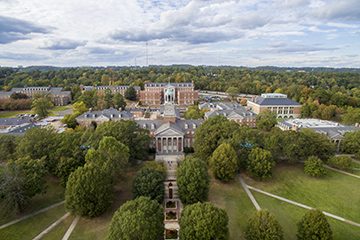 Samford University is ranked 87th and in the 93rd percentile nationally, according to a new national ranking released by The Economist.
Samford is the top-ranked higher education institution in Alabama. There were 1,275 institutions nationally included in the ranking.
According to The Economist's website, these first-ever college rankings are based on "a simple, if debatable, premise: the economic value of a university is equal to the gap between how much money its graduates earn, and how much they might have made had they studied elsewhere."
The rankings also parallel some of the criteria for the new college scorecard being used by the U.S. Department of Education with additional criteria used by The Economist. Based on these criteria, the median income for recent Samford graduates — $45,500 — actually exceeds the projected earnings by $5,390.
"While rankings are only one criteria by which a university is measured, we are pleased that a prestigious organization such as The Economist has ranked Samford University so highly," said Betsy Bugg Holloway, Samford's chief marketing officer. "It affirms the increasing value of a Samford education and the potential for our graduates in the global marketplace."
A total of 23 Alabama public and private institutions were ranked. Samford also was the highest ranked of the 10 Southern Conference–member institutions.
Holloway noted that The Economist's rankings continue a trend of high rankings for Samford's academic programs and value from such organizations as U.S. News & World Report, Forbes, The Princeton Review and Kiplinger's Personal Finance.