Published on January 26, 2016 by Kristen Padilla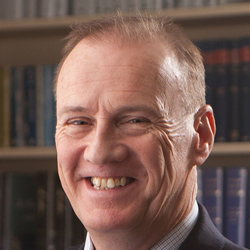 Samford University's Beeson Divinity School, in collaboration with the Lilly Endowment's Initiative to Strengthen the Quality of Preaching, has announced that Liam Goligher will deliver the annual Biblical Studies Lectures Feb. 2–4. 
The lectures will take place each day at 11 a.m. in Andrew Gerow Hodges Chapel and are free to the public. Goligher's lectures are entitled "The Prophetic Word," "Hearing the Triune" and "The Preacher as Worship Leader." 
Goligher is the senior minister of Tenth Presbyterian Church, Philadelphia, Pennsylvania. A native of Scotland, he has ministered at churches in Canada, England, Ireland and Scotland. He is also active in college ministry. Goligher speaks at conferences and churches throughout the world. He is the author of four books: A Window on Tomorrow, The Fellowship of the King, The Jesus Gospel, and Joseph—The Hidden Hand of God. He also has contributed to more than 10 books. 
"I am delighted to welcome Dr. Goligher to Beeson Divinity School to present our annual Biblical Studies Lectures," said Timothy George, founding dean. "He is an outstanding expositional preacher of God's Word and the pastor of one of the great historic churches in North America." 
"The Lilly Endowment's Initiative to Strengthen the Quality of Preaching fits perfectly with the mission of Beeson to train 'pastors who can preach,'" said Grant D. Taylor, associate dean. "Already, the grant has made a significant impact on students, alumni and friends of Beeson Divinity School. We are grateful for Lilly's help in bringing Dr. Goligher to Beeson and look forward to other exciting educational opportunities made possible by Lilly's generosity."