Published on January 25, 2016 by William Nunnelley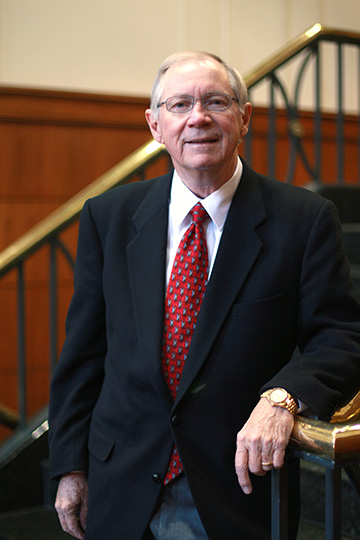 Samford University alumnus Clayton McWhorter practiced pharmacy only two years after earning his degree in 1955, but he viewed the experience as a springboard to success. His two years as a hospital pharmacist introduced him to the health-care field, in which he forged a highly successful career.
McWhorter, who died Jan. 23 at age 82, supported Samford over the years and made a transforming multimillion-dollar gift for its pharmacy school in 1995. Samford's board of trustees subsequently renamed the school  McWhorter School of Pharmacy. The name honored McWhorter, his brother Fred McWhorter, also a Samford pharmacy graduate, and other family members.
"We have lost a dear friend and a tower of strength," said Samford President Andrew Westmoreland. "By lending his name and personal prestige to a part of Samford that he treasured, Clayton's precious legacy will continue for generations. We mourn his passing and we celebrate his abundant, meaningful life."
Pharmacy Dean Michael Crouch said, "Words are insufficient to express our heartache, but we celebrate his amazing life and remarkable legacy."
McWhorter said he wanted his gift to help make Samford a pacesetter in pharmacy education. "I want to help Samford move to the cutting edge of pharmacy education for the 21st century," he said at the time.
After working as a hospital administrator in three Georgia cities in the 1960s, McWhorter joined Hospital Corporation of America (HCA) in 1970. He rose through the ranks to become HCA president in 1985. He cofounded HealthTrust Inc. in 1987, and served as chairman, president and chief executive officer until HealthTrust merged with Columbia/HCA in 1995.
McWhorter was named Samford's Alumnus of the Year in 1990 and received an honorary Doctor of Commerce degree from the school in 1993. He served as the initial chair of the Samford board of overseers and as a member of the pharmacy school advisory board.
A Fellow of the American College of Healthcare Executives, he was formerly president of the Federation of American Health Systems and a member of the board of American Hospital Association.
A resident of Nashville, Tennessee, McWhorter hailed from Hamilton County, Tennessee, near Chattanooga.
Retired former pharmacy dean Joseph O. Dean recalled meeting McWhorter in 1979 when McWhorter visited Samford with his niece Teresa Beasley, a prospective pharmacy student. "Clayton was proud of his alma mater," said Dean. "He felt it had provided him with strong mentors and wonderful opportunities. And he supported the school generously over the years. He was always willing to help, with service such as chairing the annual fund in addition to his meaningful gifts."
Dean said he thought McWhorter viewed attending Samford (then Howard College) as "his destiny, because he was following in the footsteps of his older brother, Fred, a 1951 graduate."