Published on February 10, 2016 by Sean Flynt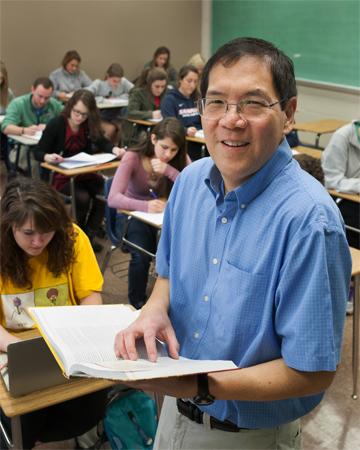 Samford University Department of Psychology chair Stephen Chew has produced five new public videos to complement his acclaimed series on How to Get the Most Out of Studying. The new video series — Cognitive Principles of Effective Teaching — calls on current research in cognitive psychology to help teachers improve the design, implementation and assessment of pedagogy.
Supporting resources, transcripts and closed caption versions of the videos will be added, but the videos are now available for free public use at Samford's Center for Teaching, Learning and Scholarship.
Chew, U.S. Professor of the Year in 2011, has presented an annual convocation program on effective studying since 2006. The convocations proved to be so popular that Chew developed a public video series on the cognitive principles of learning, first posted in 2011.
"The original five-video series has been successful beyond my expectations," Chew said. "They are in regular use at many colleges, have over a million total views, and I've received feedback about them from all over the world."
Chew added a sixth video to summarize the series, and then turned his attention to the other logical audience for his work.
"There has been an explosion of research on teaching and learning in the last 20 years, yet the research is disjointed," Chew said. The new videos bring together the available research to address the whole teaching context, with the many factors teachers must manage to be effective. "Just like studying, there is no single best way to teach all subjects to all students,"Chew said. "Teaching is a matter of constant adaptation and assessment."