Published on February 2, 2016 by William Nunnelley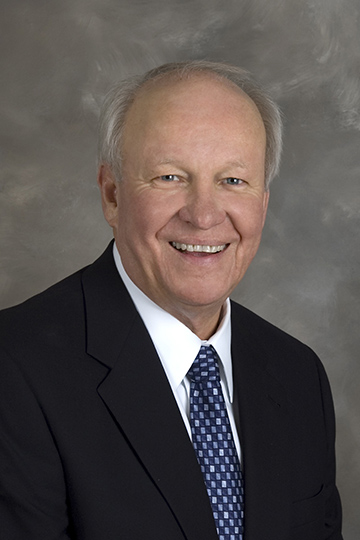 David R. Belcher, a leading automobile dealer for more than 30 years in the Birmingham area and a member of the Board of Trustees of Samford University for 12 years, died Sunday, Jan. 31. Mr. Belcher was 78.
"For hundreds — perhaps thousands — of people, Dave Belcher personified the precious quality of encouragement," said Samford President Andrew Westmoreland. "He had the unique ability to speak the right words at the right time, always with charity. As a Samford trustee, he was careful to safeguard the interests of our students. We have lost a dear friend, and the members of the Samford community join Mrs. Belcher and her extended family in gratitude for the many ways in which Mr. Belcher touched our lives." 
Belcher was elected to the Samford board in 2002 and had recently been elected to a fourth term. He served on the Executive Committee, the University Advancement Committee (including two years as chair) and the Academic Affairs Committee of the board.
Belcher served as president and owner of Royal Automotive for more than 27 years and of Saturn of Birmingham for more than 11 years. He won the Oldsmobile Dealer Elite Award 10 times over a period of 15 years, and was a multiple winner of the Oldsmobile Service Merit Award. He was the 1996 Time Magazine Dealer of the Year for Alabama.
A church and civic leader, Belcher was a deacon and past chairman of the board of deacons at Shades Mountain Baptist Church, and was a past board member of the John Croyles' Big Oak Boys and Girls Ranch, Vestavia Hills City Schools and United Way of Alabama.
Born in Roanoke, Alabama, Belcher was a graduate of Jacksonville State University, where he served as president of the Student Government Association.
A veteran of seven years with the U.S. Army, Belcher was released from active duty with the rank of major. He was a Vietnam veteran, and held the Bronze Star Medal, Air Medal, Army Commendation Medal and other awards.
Belcher is survived by his wife, Sue Merrill Belcher, and two grown sons, David H. Belcher and Greg L. Belcher.
A memorial service for Mr. Belcher will be Friday, Feb. 5, at 2 p.m. in the Worship Center at Shades Mountain Baptist Church.