Published on February 17, 2016 by Emily Duval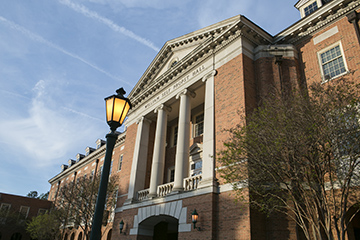 For the third year, Samford University's STEM Girls Rock summit is back with the theme "Reaching for the Stars through Science, Technology, Engineering and Math." The daylong event is Saturday, Feb. 20, 11 a.m.–3 p.m. Girls in grades 7–12 who have an interest in science, technology, engineering or mathematics can attend. 
"We have noticed that women are underrepresented in STEM careers, so we started this event to show grade-school girls what they are capable of. This event shows them women who are making a difference to look to as role models in their community," said event coordinator Denise Gregory. Gregory is an assistant professor of chemistry, and Samford's director of diversity and intercultural initiatives. 
A panel of 15 women with successful careers in STEM fields will be introduced in the opening session. Attendees will choose 4–5 speakers to visit in round-robin sessions. Each interactive session is about 20 minutes. 
The panel includes women who are nurses, engineers, meteorologists, computer scientists, dieticians, veterinarians, neuroscientists and more. Ruth Jones, a mishap investigation specialist for NASA, is among the speakers. 
This free event is the result of a partnership between Samford's Office of Diversity and Intercultural Initiatives and Miss Leeds Area Briana Kinsey. Pursuing a Bachelor of Science degree in biology, Kinsey began the summit with the goal of empowering girls to pursue their interest in STEM courses. 
Girls in grades 11–12 also have the opportunity to learn more about scientific careers at Samford's Minority Youth Science Academy June 26–27. 
There is no cost to attend, but registration is required. To register, email djgregor@samford.edu. 
Emily Duval is a journalism and mass communication major and a news and feature writer in the Division of Marketing and Communication.