Published on March 2, 2016 by Jimmy Lichtenwalter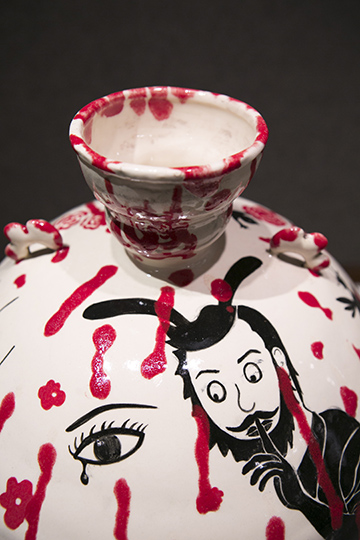 Samford University's Art Gallery is exhibiting the works of ceramics artist WangLing Chou during March as part of the Visiting Visual Art Series. The exhibit, titled Other Forms of Life: Works in Ceramics, is on display through March 16 in the gallery located in Swearingen Hall.
After receiving her Master of Fine Arts degree from Kent State University in Ohio, Chou has taught at Louisiana College since 2008, where she is now an associate art professor and coordinator of the visual arts department.
Creating her ceramic works, Chou uses trash to mold and shape her designs. Around the exhibit are examples of ceramics shaped by Coke cans, energy drink bottles and egg cartons.
"With trash, its original function dies," Chou said. "But now it can be used again."
Chou describes her work as abstract, using humor to explore painful and uncomfortable topics. Her work also contains many Christian themes and ideas, such as one piece titled The First and Last Adam.
"I think my topics are relevant because of the religious nature of the school," Chou said. "My work is spiritual in nature."
"I think they [Chou's ceramics] reflect Samford very well," said Robin Snyder, gallery director and Samford art professor. "She [Chou] has really strong craftsmanship. I love her sense of humor."
Chou is just one of many artists whose work will be displayed in the Art Gallery.
"I want students to be able to come and see art that living artists are doing," Snyder said. "I bring in as many different artists as I can." 
The gallery is open weekdays from 9 a.m. to 4 p.m., and admission is free.
Jimmy Lichtenwalter is a journalism and mass communication major and a news and feature writer in the Division of Marketing and Communication.