Published on April 11, 2016 by Allison Kanne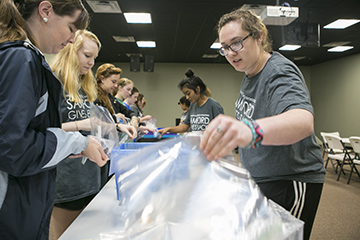 Samford University's Frances Marlin Mann Center for Ethics and Leadership will sponsor the annual Samford Gives Back on April 16 from 8 a.m. to 1 p.m. for students campus-wide. This year's theme is "Love Your Neighbor." 
In association with a student-led team, the Mann Center partners with local organizations such as The Old Howard 100 Bike Ride and East Lake United Methodist Church to immerse students in the community through service opportunities. Since 2009, these initiatives have helped to restore the Birmingham area while demonstrating how to be a good neighbor through tangible, service-based projects. 
"Building long-term, mutually beneficial relationships with our community partners is crucial," said Drayton Nabers Jr., Mann Center director. "This event serves as an initial experience that encourages students to take action and foster that meaningful interaction with the broader Birmingham community." 
More than 825 students, alumni and employees had registered to participate as of April 11. 
Allison Kanne is a journalism and mass communications major and a communication intern in Samford University's Mann Center for Ethics and Leadership.