Published on April 29, 2016 by Philip Poole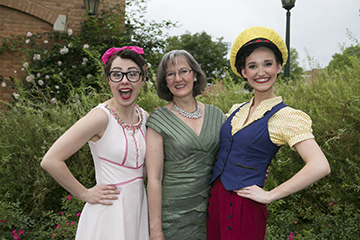 In an elegant setting on the stage of Leslie S. Wright Fine Arts Center, 240 friends of Samford University celebrated the culmination of a yearlong focus on scholarship and the centennial of Samford Arts at the annual Samford Legacy League Scholarship Gala April 29.
Although final totals will not be available for several days, Legacy League Executive Director Jeanna Westmoreland announced that more than $120,000 already had been raised for the new Legacy League School of the Arts Centennial Scholarship. The scholarship, the latest in the league's portfolio of student scholarships, adds to the more than $2.4 million in scholarship endowment that the league has raised through the years.
Sadie Knox, one of the league's 12 scholarship recipients for 2015–16, shared some of the obstacles she had to overcome to attend Samford. The Legacy League scholarship provided much-needed financial support to ensure that this young woman who spent time in a foster home in Southern California could attend her chosen college.
"The love, generosity and encouragement I receive from the members of the Legacy League are the unconditional support of a family. Each of you played a part in bringing me to my favorite and most stable home, and giving me these opportunities."
Knox, who is a junior psychology major, has been actively involved on campus and in the community while at Samford, including an internship in Washington, D.C.
"Being at Samford has offered me so many opportunities to grow in my walk with the Lord, but also as a human," she said. "The environment that is being cultivated at Samford has allowed me to flourish and embrace the best parts of me, while having the influence of my peers to challenge me to strive for even greater."
Quoting the late Helen Keller, Westmoreland said the best things in life are "felt with the heart."
"Thank you, Sadie, for filling our hearts with the knowledge that lives can be changed," she added. "We know that we will continue to feel in our hearts the best and most beautiful things in life as we watch these students use their God-given talents to change the world."
The evening concluded with guests attending a special performance of the Dr. Chandler and Jane Paris Smith Opera Series production of On the Town, the final School of the Arts theatre production of the year.
Dating from the early 1900s in various forms, the Legacy League is a volunteer organization that works to provide life-changing scholarships to Samford University for students with significant financial need. The league now sponsors 25 endowed scholarship funds that have helped more than 160 Samford students through the years.