Published on May 6, 2016 by Sean Flynt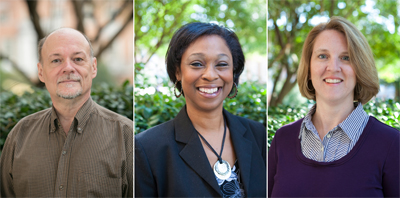 Samford University's Howard College of Arts and Sciences presented its annual faculty awards May 3. Psychology professor Jack Berry won the Dean's Award for Research. Chemistry and biochemistry professor Denise Gregory won the Dean's Award for Teaching. Mathematics and computer science department chair Emily Hynds won the Arts and Sciences Teaching Award.
Much of Berry's research has focused on forgiveness, moral identity, altruistic personality traits and other areas in the field of positive psychology (the study of human strengths and virtues). In addition to his research and teaching, he is an active consultant, providing expertise to researchers in a wide range of scientific disciplines.
Hynds teaches students at all levels in a wide variety of topics within college mathematics and has worked alongside them on several undergraduate research projects. She also serves as Samford's faculty representative to the NCAA. Her areas of interest lie in combinatorics and specifically graph theory.
In addition to her teaching and research on bioremediation of pharmaceutical drugs found in wastewater, Gregory, serves as Samford's Director of Diversity and Intercultural Initiatives. She leads Samford's annual Minority Youth Science Academy and STEM Girls Rock summit. In 2015, Gregory was among 10 "Women of Distinction" honored by Girl Scouts of North-Central Alabama for contributions to their community and for their exemplary role models for girls.