Published on May 25, 2016 by Philip Poole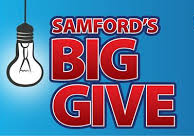 by Sarah Waller 
Samford University's fourth annual Big Give, a social media–driven crowdfunding campaign, generated more donors than ever, raising $43,890 in the matter of 36 hours.
Close to 380 Samford alumni, parents and friends participated in this year's Big Give, which focused on raising funds for 12 Samford projects representing a variety of needs across campus. This number of participants is a great increase from the 2015 campaign that generated 277 donors.
"The Big Give is always one of our favorite events of the year because it showcases a groundswell of support for the university. This year was no exception," Senior Director of Alumni Programs and Annual Giving Lauren McCaghren said.
Of the 12 Big Give projects, four were fully funded by the end of the campaign. The first three projects to be fully funded focused on raising funds for newly established scholarships.
Samford's Beeson Divinity School raised $3,000 for the new Timothy George Scholarship for Excellence, which will provide the recipient with a full scholarship and living stipend for the duration of one's studies at Beeson Divinity School.
McWhorter School of Pharmacy raised $5,000 for its new Underrepresented Student Scholarship, which will enable an underrepresented student to pursue a degree in pharmacy.
The Samford Parents Association raised $5,000 for a scholarship that will be awarded to a student who, nearing the end of his or her college career, is facing serious financial obstacles.
Orlean Bullard Beeson School of Education and the France Marlin Mann Center for Ethics and Leadership's project to mentor inner-city students was fully funded within the last hour of the campaign, thanks to a social media push from alumni, McCaghren said. The project exceeded its goal of $4,700, which will be used to strengthen Samford's partnership with W. E. Putman, a Birmingham middle school, and support the efforts to establish mentoring programs.
"We couldn't be more grateful for these gifts and support. There were wonderful projects featured this year as part of the campaign, and we look forward to seeing them all come to completion," McCaghren added.
Sarah Waller is marketing and communication coordinator for the Office of Alumni Programs and Annual Giving.