Published on June 14, 2016 by Sean Flynt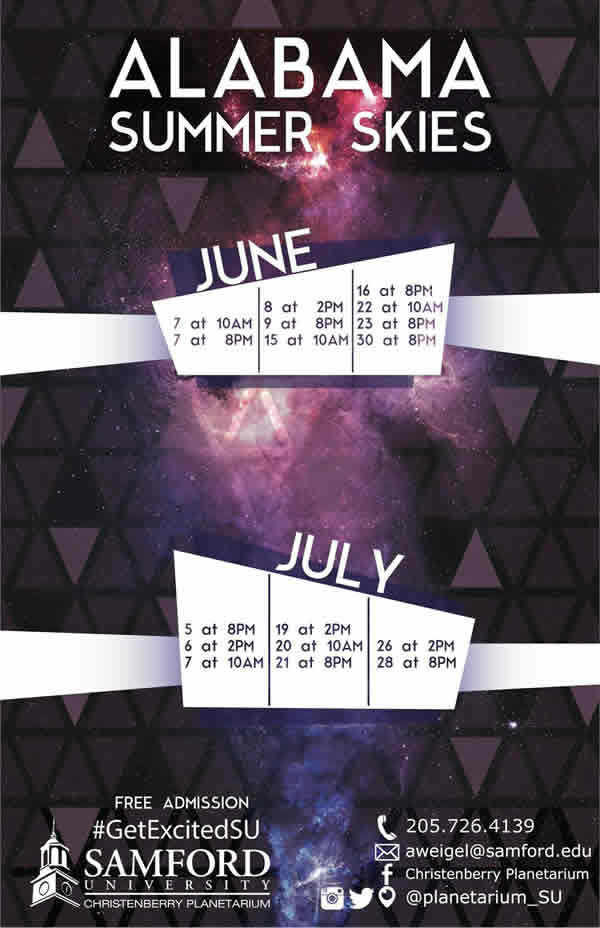 Samford University's Christenberry Planetarium continues to present free public programs through the summer months, with shows in mornings, afternoons and evenings. It's a great way for families to cool off in the summer heat, have fun and get excited about exploring our universe.
June
6/15 at 10 a.m.  Solar System
6/16 at 8 p.m. The Martian Frontier
6/22 at 10 a.m.  Asteroids, Comets, and Dwarf Planets, Oh My!
6/23 at 8 p.m. Go Big! (Jupiter and its Moons)
6/30 at 8 p.m.  The Saturnian Spectacle
July
7/5 at 8 p.m.  A Year of Pluto
7/6 at 2 p.m. Hot, Hot, Hot (Mercury and Venus)
7/7 at 10 a.m.  The Martian Frontier
7/19 at 2 p.m. The Saturnian Spectacle
7/20 at 10 a.m.  Our Place in Space (Earth and Moon)
7/21 at 8 p.m.  Asteroids, Comets, and Dwarf Planets Oh My!
7/26 at 2 p.m.   Go Big! (Jupiter and Moons)
7/28 at 8 p.m.  Constellations
Telescope viewing will be available at the conclusion of the evening events if weather permits. The planetarium will offer the Oculus Rift virtual reality experience before select showings, announced closer to the event dates.
As always, seating is available on a first-come, first-served basis, and shows begin as soon as the planetarium reaches its maximum capacity. Plan to arrive early.
Follow Christenberry Planetarium at Samford University on Facebook and share our Summer Skies post for a chance to win a telescope kit or a Christenberry Planetarium shirt!