Published on June 7, 2016 by Sean Flynt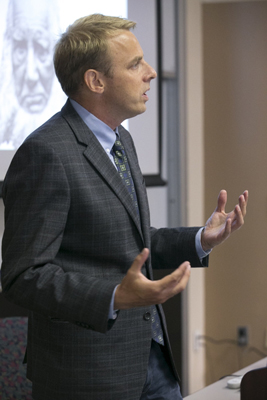 Danish Fulbright Scholar Anders Holm ended his year at Samford University with a June 6 lecture on the prolific and influential 18th- and 19th-century scholar Nicolai Frederik Severin Grundtvig.
Holm, an accomplished scholar of culture, literature, and church and intellectual history, serves on the faculty of theology at the University of Copenhagen and coedits Grundtvig-Studier: An International Journal for the Study of Nicolai Frederik Severin Grundtvig (1783–1872) with Samford English department chair Brad Busbee.
In his last lecture at Samford before traveling in the U.S. and returning to Denmark, Holm introduced his audience to the man who has 25,000 published pages to his credit, many times that in unpublished work, and surprising influence throughout the world.
Born in a conservative Lutheran community during the enlightenment, Grundtvig changed his views and values as often as he changed careers. He was, at various times, a pastor, poet, hymn writer, historian, educator, politician and constitutional father of his modern country. "I can think of no other person anywhere who has influenced a country the way that Grundtvig has influenced Denmark," Holm said. "Maybe if you took the best of people like George Washington, Ralph Waldo Emerson, Benjamin Franklin and Martin Luther King Jr. in the U.S., Grundtvig is, in Denmark, all that combined, and even more than that."
Grundtvig's thoughts on education are his greatest legacy elsewhere in the world, Holm said. He conceived of folk schools that would provide a common foundation of understanding, rooted in folk culture, to prepare children and adults to participate fully in the political and cultural life of their nation. "The characteristic feature of these schools around the world is that they use Grundtvig's ideas to empower students to become responsible citizens, both in their communities and in a diverse and changing world," Holm said.
This influence was emphasized in May, when U.S. President Barack Obama drew a straight line from Grundtvig to his presidency. In a toast at a Nordic state dinner, Obama noted that the Highlander Folk School of Grundy, Tennessee, was created by Myles Horton in the 1930s after Horton's tour of Danish folk schools. In the 1950s, the school hosted key leaders of the American Civil Rights Movement, including Ralph Abernathy, Ella Baker, Martin Luther King Jr., John Lewis, Rosa Parks and the artist Pete Seeger, who combined American musical traditions with activism in a way that reflects Grundtvig's passion for music, folk traditions and informed political participation. All helped create a society in which Obama could become president.
Holm said Grundvig called his pedagogical approach "the school for life."
"Such a way of thinking is always needed, be it at Samford or Copenhagen University or wherever we work with education," Holm said. "In the schools for life, you don't just learn specific competence such as Latin, math, organizing business or managing a new computer program. No, in these schools, the idea is that you learn to deal with the fundamental questions we meet in society and the questions we encounter throughout our lives, nothing less than the questions that rise from our human existence."