Published on July 1, 2016 by Mary Wimberley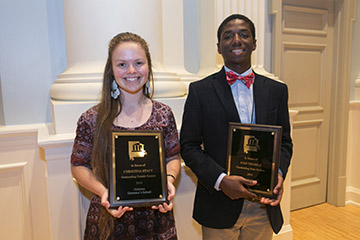 Christina Stacy of Elkmont, Alabama, and Josh Trimble of Montgomery, Alabama, were named outstanding female and male and students at this year's Alabama Governor's School (AGS) at Samford University.
The two-week honors program for academically gifted rising high school seniors ended Friday, June 24.
The award winners were chosen by AGS students, faculty and staff on the basis of their participation and overall interest. They were among 92 participants from 54 high schools in 25 counties.
Stacy, a student at Elkmont High School, is the daughter of Robin and Louis Stacy.
Trimble, a student at Booker T. Washington Magnet High School, is the son of Joseph Trimble and Jacqueline Trimble.
AGS participants received college-level experience in academic subjects, creative activities and leadership activities.
More than 2,000 of Alabama's best and brightest high school students have attended AGS since it began at Samford in 1987.