Published on July 29, 2016 by Mary Wimberley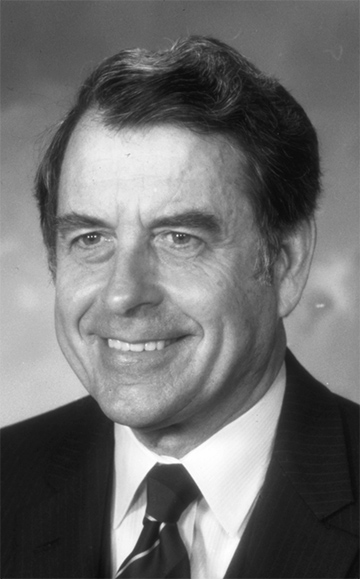 Vietnam hero, naval aviator and former prisoner of war Jeremiah A. Denton Jr. will be inducted into the Alabama Men's Hall of Fame Tuesday, Sept. 20.
Denton, a Mobile, Alabama, native who died in March 2014 at age 89, was elected to the U.S. Senate from Alabama in 1980.
Founded by the Alabama legislature in 1987, the Hall of Fame recognizes men whose lives have impacted the state, the nation and the world. Honorees must have been deceased for at least two years before nomination. Plaques recognizing the honorees are housed in Samford University's Harwell G. Davis Library.
Denton is best known for his service as a pilot during a bombing mission over North Vietnam in 1965. While leading a squadron of 28 jets over enemy territory, he was shot down, captured and held for the next seven years and seven months in North Vietnamese prison camps, including the notorious Hanoi Hilton.
For acts of resistance, such as repeatedly voicing his support of U.S. policy to his captors and blinking out the letters T.O.R.T.U.R.E. in Morse Code in an attempted signal to U.S. agencies, he was placed in solitary confinement for four years.
After his release at the end of the war, he became a rear admiral, returned to Alabama and was elected to one term in the U.S. Senate (1981–87). He and his late wife, Jane Maury Denton, also a native of Mobile, had seven children. After her death in 2007, he married Mary Belle Bordone.
Denton attended Spring Hill College in Mobile and is a graduate of the U.S. Naval Academy.
His eldest son, Jeremiah A. Denton III, will deliver the induction remarks at the luncheon. An attorney in Virginia Beach, Virginia, he is a former Navy helicopter pilot who served during the Vietnam War while his father was a prisoner of war.
The public is invited to the induction luncheon at 11:30 a.m. at The Club in Birmingham. Reservations are needed by Monday, Sept. 12. To reserve a place, contact reservation chair Rebecca Mason at 205-968-0967 or rebecca@shelbysys.com.
For additional information, contact Alabama Men's Hall of Fame executive secretary Annette Green at 205-492-3936 or anniegreen2404@gmail.com.