Published on July 6, 2016 by Erin Bognar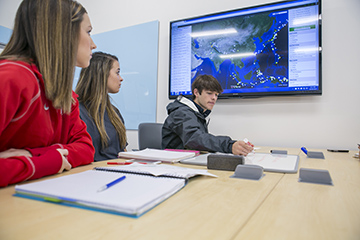 Samford University was a finalist for the annual Harman Innovation Awards at UBTech, which celebrates innovative higher education institutions. Samford submitted a renovated "flipped" classroom in Brooks Hall for the competition. 
The awards recognize the use of classroom technology in five categories: campus impact, classroom design and implementation, audio experience, video in the learning space, and active learning space. Samford was one of 25 schools nationally to be recognized for classroom innovation. 
Samford entered the active learning space category, which focuses on creating a unique technological classroom specifically geared for active and hands-on learning. 
"We decided to use Brooks 129 for our proposal because of the innovation that this room brings to Samford, not only with audiovisual experience, but through the multipurpose flexibility the room now offers to our faculty and students," said Chad Owens, Samford's director for learning applications.  
Four Brooks Hall classrooms, including room 129, were renovated to accommodate active learning, including flipped classes. Before the update, the room was a classic lecture-style classroom with individual desks and limited technology that had seen little change since Brooks Hall was constructed in the 1960s. 
The renovated classrooms have moveable furniture designed for multiple configurations and walls covered in glass boards for student brainstorming activities. Interactive, high-definition monitors allow students to connect their electronic devices and collaborate in the classroom spaces. The spaces also received new carpeting, lighting, paint and other upgrades. 
"As this room is the first of its kind at Samford, we wanted to ensure that the purpose and design of this room was centered around collaboration and student engagement," Owens said. 
Due to the success of the Brooks Hall facilities, Technology Services is installing two more active learning spaces in the new facilities for Samford's College of Health Sciences. Technology Services plans to apply again for the competition next year with the proposal being the new College of Health Sciences learning spaces.  
Erin Bognar is a journalism and mass communication major and a news and feature writer in the Division of Marketing and Communication.