Published on July 27, 2016 by Mary Wimberley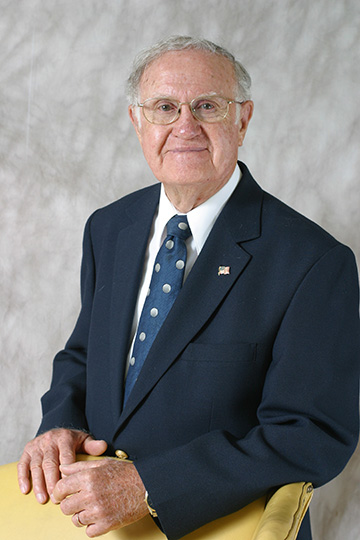 Longtime Samford University professor and administrator Ruric E. Wheeler died July 26, 2016.  He was 92.
Wheeler served Samford for 46 years. After joining the mathematics faculty in 1953, he served as chair of the math department and the division of natural sciences, dean of Howard College of Arts and Sciences, vice president for academic affairs and university professor. He retired from his final post as research professor of mathematics in 2009.
He wrote 25 college textbooks that have been used by more than one and a half million students. In 2002, he wrote a memoir, All Because of Polly, about his courtship and life with his wife, Joyce, who died in 2012.
Wheeler earned a bachelor's degree from Western Kentucky University, and master's and Ph.D. degrees from the University of Kentucky. Prior to joining the Samford faculty, he taught mathematics at the University of Kentucky and statistics at Florida State University. He was a veteran of the U.S. Army Air Force.
"In the loss of Dr. Ruric Wheeler, we celebrate the life and mourn the passing of a stalwart friend of Samford," said Samford President Andrew Westmoreland. "Together with his wife, Joyce, the Wheeler family exemplified the selfless service so ingrained in the members of the Samford faculty and staff.
"Even as he maintained a demanding schedule with expanded administrative responsibilities, he never lost touch with his academic discipline and the cherished role of faculty. Thousands of us are grateful for his loyal, effective service," Westmoreland said.
He is survived by his sons Ed (Claire) of Atlanta, Georgia, and Paul (Joy Gooch) of Nashville, Tennessee, five grandchildren, and four great-grandchildren.
A memorial service will be Saturday, July 30, at 2 p.m. at Shades Mountain Baptist Church in Birmingham, with visitation at 1 p.m.
Memorials may be made to the Wheeler Scholarship Fund, Samford University, 800 Lakeshore Drive, Birmingham, AL 35229.