Published on August 31, 2016 by Mary Wimberley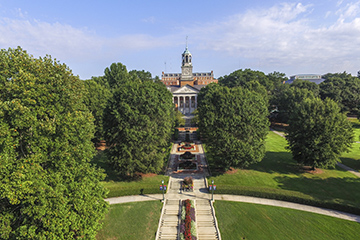 From rural Alabama to India to Africa, the summer of 2016 found Samford University students sharing the Gospel and serving in as many as 23 foreign countries and territories, spanning all six of the world's habited continents.
A total of 152 students were involved in mission and ministry projects around the globe, reports Renee Pitts, Samford's minister to students for global involvement. About 72 served on foreign soil, while 80 were in locales across the United States.
In addition, each of Samford's 10 academic schools was represented by students and faculty using their special training and skills to share the good news, whether directly or indirectly.
Their work took many forms. Efforts ranged from interior architecture students designing and constructing a medical clinic in an impoverished area of India to dietetic internship students providing nutrition education and managing a Vacation Bible School for a Native American community in Mount Vernon, Alabama.
Eight Samford undergraduate students served together in Malaysia for eight weeks.
One, "Sam" (not his real name), was assigned to a city that he describes as beautifully diverse, "where the Lord has truly brought people from all tongues, tribes and nations."
During a typical week, Sam said, he could interact with Muslim background believers from Iran, Pakistan, Libya, Indonesia and India. On Sunday, he could worship and hear the Word from a German-Portuguese-Chinese-Italian pastor who was born in Malaysia.
"It truly is a strategic place where the Lord has placed his people to hear his gospel. We were able to partner with the existing work going on, and help sow gospel seeds and connect friends to workers in the city as we went through our normal daily routine," he said. "The Lord is moving among people and nations of the Islamic faith, and it was a blessing to be encouraged by and share in the work that the Spirit is doing in Asia, the Arab world and around the globe."
Cecilia Chang and Jonathan Smith were among 20 Beeson Divinity School graduate students who undertook summer mission assignments around the globe as part of a required two-week cross-cultural ministry practicum.
In the West African nation of Liberia, Chang partnered with Christian Revival Church Association. While there, Chang shared her testimony, preached and helped with children's ministry in local churches and evangelized while Water of Life workers installed water filters in villages that are predominately Muslim.
Despite severe poverty, the nation's 13-year civil war during which 250,000 people were killed, and the severe outbreak of the Ebola virus, Liberians are filled with energy, love and care for one another, and most of all, love for God, Chang said.
"The believers in Liberia live their day-to-day life with the resurrection power of Jesus. They truly live in celebration for what God hands down through Jesus Christ."
She also learned the importance of the self-sustainability and disciple training aspects of church planting. "So they may also plant and raise the next generation who would also raise the next generation," Chang said.
In Oaxaca, Mexico, Smith participated with Reaching and Teaching, a ministry that provides discipleship and training for pastors who have little access to pastoral training.
In a semi-remote village, he observed 15 local pastors being taught by the missionary who was his host during his two-week stay.
Only one had ever had any pastoral training whatsoever, said Smith, who remembers that after the first hour of teaching, they all ate breakfast. 
Around the table, pastor after pastor humbly expressed their great need for training, with some saying they had never heard many of the things the missionary taught, he recalls.
"They pleaded for him to come back often because they are in desperate need of help," Smith said. "This was a reality check for me. I knew there was this kind of need, but I had never experienced it in person."