Published on September 20, 2016 by Kristen Padilla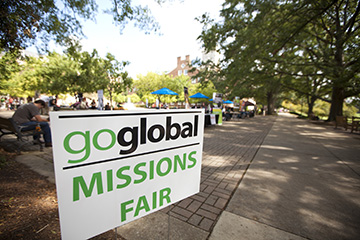 Samford University's Beeson Divinity School will hold its annual Go Global missions emphasis Sept. 27–29, featuring Paul Borthwick, director of the Overseas Missions Practicum at Gordon-Conwell Theological Seminary, Hamilton, Massachusetts.
Borthwick is author of How to Be a World-Class Christian: Becoming a Part of God's Global Kingdom. He will preach on Tuesday at 10 a.m. in Reid Chapel and at 11 a.m. in Hodges Chapel, and will give a campus lecture on Wednesday at 3 p.m. in Reid Chapel.
Go Global, a partnership between Beeson Divinity School's Global Center and Samford's Office of Spiritual Life, also will feature a missions agency exhibition in Ben Brown Plaza, Wednesday and Thursday, 9 a.m. to 3 p.m. This exhibition provides the opportunity to meet and talk with representatives of missions agencies about possible areas of partnership.
The missions emphasis also will include two campus-wide mobilization worship events with Kristen White, assistant professor and chair of international studies of Belhaven University, Wednesday at 8 p.m. and Thursday at 10 a.m. in Reid Chapel.