Published on September 20, 2016 by Philip Poole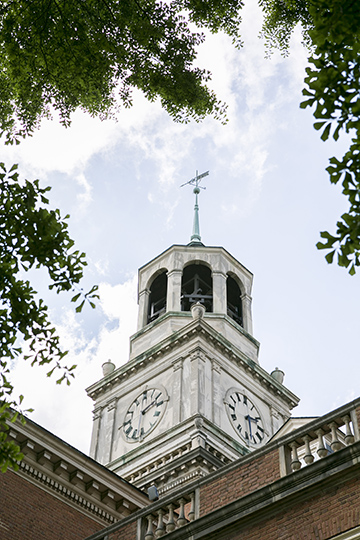 A series of "reveal sessions" are being held this week at Samford University to give students, employees, alumni and other interested members of the Samford community a sneak peek at the results of a six-month project to improve ways to communicate the mission, programs and brand of the university. Four sessions were held Wednesday, Sept. 20, with a final session scheduled for 9 a.m. Thursday, Sept. 21, in Brock Recital Hall.
In March, the university retained Dartlet, a leading reputation strategy company in higher education. Since that time, the company has engaged hundreds of employees, students and alumni throughout multiple visits to campus. Its work has included a branding audit of 12 peer and competitor institutions in higher education, as well as an online survey of hundreds of people in Birmingham, Nashville, and Atlanta to assess awareness and perceptions of Samford.
In addition, Dartlet also will provide in-depth training in the use of a new messaging platform it has developed for the university. One major goal of the project was the development of strong and consistent messages about Samford University, its mission and its programs.  
"The Samford brand is much more than a logo or trademark," explained Betsy Bugg Holloway, Samford's vice president for marketing and communication. "Our brand is everything someone thinks of when they hear the Samford name. It represents the essential values of our university and ultimately the reason we exist as an institution."
The public unveiling of new brand identity, including a new bulldog logo, a revised belltower logo and new brand marks for the university's 10 academic schools, is scheduled during homecoming weekend Nov. 10–13. Samford is entering an agreement with Nike to have apparel with the new logos available for sale in the Samford Bookstore during homecoming, according to Holloway. Additional apparel and products will available in the bookstore and online in time for the holiday season.
The project has taken several months to complete and ultimately will culminate in an improved communication strategy and identity system for Samford, Holloway added.