Published on September 7, 2016 by Mary Wimberley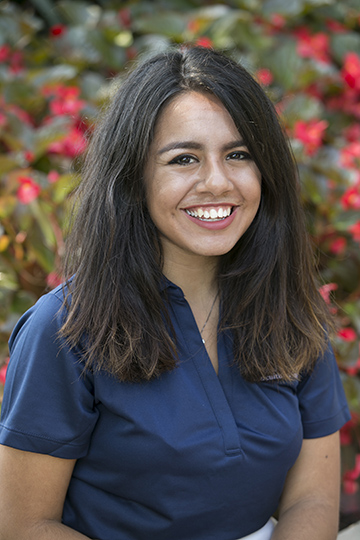 As Samford University prepharmacy major Jasmine Willis synthesized catalysts in a campus laboratory this summer, political science major Fernanda Herrera learned the legislative process and strengthened her leadership skills at the Congressional Hispanic Caucus Institute in Washington, D.C.
In the southern hemisphere, Samford senior soccer player and marketing major Jermain Seoposenwe attracted international attention as a member of the South Africa soccer team at the 2016 Summer Olympics in Rio de Janerio, Brazil.
They and hundreds of their fellow students used the summer to learn, research, explore, serve, perform and stretch themselves creatively, spiritually, academically and in a myriad of other ways.
Such opportunities provide an extra dimension to the academic process, said Samford Senior Associate Provost Tom Woolley.
"Employers consistently indicate that they want individuals with very good written and verbal communication skills, a demonstrated ability to think critically, experience working on a team and, most critically, real-world experience in their discipline," Woolley said.
Internships and other summer experiences, he said, "have proven over and over to be the most effective and efficient way for students to achieve this practical know-how in their chosen field."
Willis, who hopes to one day create new drugs, was among several dozen Samford students who conducted summer research on campus. Topics ranged from elections held in Rome, Italy, more than 2,000 years ago to the role that religion and racial bias play in predicting the concerns and fears of current-day Americans.
Service-learning projects, always an important component of Samford life, took place close to home and around the globe. 
As nursing students assisted with medical needs in an area of Peru that was affected by an 8.0 earthquake several years ago, for instance, senior nurse anesthesia student Tyler Nutt provided anesthesia for patients undergoing surgery in a clinic in Kenya.
Interior architecture students designed and constructed a medical clinic in an impoverished area of India, while dietetic internship students provided nutrition education and managed a Vacation Bible School for a Native American community in Mount Vernon, Alabama.
Still closer to home, Samford students served as mentors for several programs that brought high school students to campus to receive college preparation and mentoring for careers in medicine, law, science, technology, engineering and mathematics fields. Similarly, Samford education students assisted in a summer reading and leadership program for area middle school students.
Recent journalism and mass communication graduate Emily Featherston experienced the nation's capital in a uniquely Samford way as this year's recipient of the university's Timothy Sumner Robinson fellowship. The honor provided for two weeks at The Washington Post, where she observed, learned and wrote with top journalists. Her duties included working with the team of "Weekend," a weekly special section about things to do in the area.
Senior marketing major Grace Bowes landed a coveted ESPN internship at company headquarters in Connecticut. Selected after eight rounds of interviews, she helped schedule commercials for each ESPN network, handled many related details and shadowed shows such as SportsCenter, Baseball Tonight, First Take and Mike and Mike.
Throughout the summer, hundreds of Samford students participated in faith-based mission opportunities in as many as 23 foreign countries and territories.