Published on October 26, 2016 by Philip Poole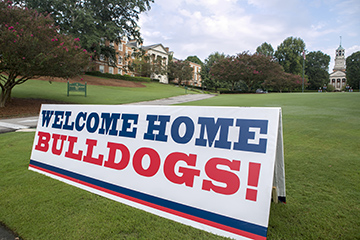 by Sarah Waller 
The question can loom over a student's head: "What will I do with my degree after college?" Who better to offer advice than Samford University alumni who at one point asked the very same question? 
The Alumni Showcase during Samford University's homecoming weekend will highlight six alumni who are working in their chosen field of study. These alumni, representing six of the university's 10 schools, will speak to students in a classroom setting Thursday, Nov. 10, and Friday, Nov. 11, offering advice, sharing experiences and answering questions. 
Alumni speakers include the following: 
Jewel Littleton Williams is a 2005 and 2010 graduate of Orlean Beeson School of Education. She is principal of New Hope Christian School in Birmingham and chief education officer of Learning Little People LLC. 
Keith Brown is a 2005 graduate of Brock School of Business, and he is president of State Traditions, a Southern apparel company. 
Stephen Dillard is a 1992 graduate of Howard College of Arts and Sciences, and he serves as 73rd judge of the Court of Appeals of Georgia. 
Jeb Mitchell is a 1998 graduate of McWhorter School of Pharmacy. He is a pharmacist at Solutions Infusion Therapy. 
Laura Zapalowski is a 2000 graduate of the School of Public Health and owner of Homewood Gourmet. 
Kenny Jno-Finn is a 2004 graduate of the School of Health Professions. He is a physical therapist and clinical director of EW Motion Therapy-Trussville. 
Along with their presentations, these alumni will gather for a special lunch Thursday, Nov. 10, where the university will have the opportunity to honor them for their many accomplishments, according to Chris Blazer, senior director of alumni programs and annual giving. 
Sarah Waller is marketing and communication coordinator for the Office of Alumni Programs.