Published on October 19, 2016 by Ashley Smith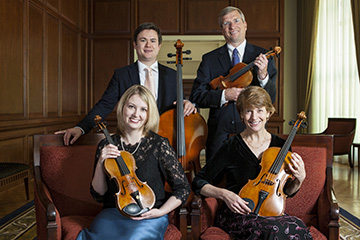 Samford University's String Quartet will provide a sneak preview of its upcoming Carnegie Hall concert Thursday, Oct. 20 at 7:30 p.m. in Brock Recital Hall.  
The recital will feature works composed by Joel Davis, assistant professor of music theory and composition, and soloist Joseph Hopkins, dean of Samford's School of the Arts. 
The String Quartet will perform in Weill Recital Hall at Carnegie Hall on Monday, Oct.24 at 7:30 p.m.  This debut performance in New York will be followed by a reception at the famous Tavern on the Green, and the Samford community in the metropolitan New York region are invited to be part of the celebration.  
Tickets for the performance are still available at carnegiehall.org.
The quartet includes two married couples — Angela and Jeffrey Flaniken (viola and violin), and Caroline and Samuel Nordlund (violin and cello). Individually, the musicians have held several positions in symphony orchestras and play regularly at music festivals. 
The Samford String Quartet was formed in 2011. Its future and the Carnegie Hall performance were made possible through an endowment gift from husband and wife team Wilton Bunch and Victoria Dvonch of Birmingham.
Bunch and Dvonch have been long-time supporters of Samford arts. A medical doctor, Bunch is professor of ethics and philosophy at Samford. Dvonch also is a medical doctor and later taught science in the Hoover (Ala.) City Schools.
Ashley Smith is marketing and communications coordinator for Samford Arts.