Published on October 18, 2016 by Philip Poole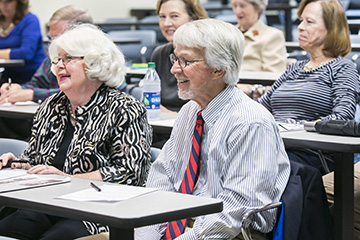 by Olivia Odom 
Samford University's homecoming weekend Nov. 10–13 will offer alumni the chance to visit campus, reconnect with former professors, and learn about new programs and initiatives with school and department open houses on Friday, Nov. 11, 10 a.m.–2 p.m. 
Open houses include the Department of Biology and Environmental Sciences, Brock School of Business, Career Development Center, Center for Congregational Resources, Department of Chemistry and Biochemistry, Counseling Services and Wellness Programs, Cumberland School of Law, Professional Studies, University Fellows, Department of Journalism and Mass Communication, Office of Alumni Programs and Annual Giving, Office of Diversity and Intercultural Initiatives, Office of Global Engagement, Orlean Beeson School of Education, Department of Religion, Residence Hall Vail Lobby, Samford Conservatory, Andrew Gerow Hodges Chapel, and WVSU-FM 91.1. 
Samford's newest facility also will be available to tour homecoming weekend. The College of Health Sciences open house will be Saturday, Nov. 12, 9–11 a.m. A continental breakfast will be served. Samford President Andrew Westmoreland and school leadership will be in attendance. 
"Friday's open houses provide alumni the chance to experience life at Samford as it is today," said Casey Ramey, director of alumni programs. "By attending a school, department or organization's open house, alumni can reconnect with old professors, tour new facilities and hear about what's new." 
Open houses will be personal and casual. Classes will be taking place in many departments, so alumni will feel right at home, Ramey added. 
"With the 175th Anniversary Convocation and Service of Thanksgiving at 2:30 p.m., and the 175th Anniversary Ball later that night, open houses are a great way to spend the morning on campus before these 175th events kick off," said Ramey. "We encourage alumni to bring a blanket for the quad, spend time on Ben Brown Plaza or enjoy lunch in the caf." 
After the open houses, everyone is invited to gather in the quad for the 175th Anniversary Festival Processional, which will lead everyone down Centennial Walk and into Leslie S. Wright Center. The 175th Anniversary Convocation and Service of Thanksgiving will begin at 2:30 p.m. 
On Saturday, Nov. 12, Greek Life organizations also will host open houses or alumni brunches, along with tailgating festivities. Participating organizations include Alpha Delta Pi, Alpha Omicron Pi, Chi Omega, Phi Mu, Sigma Chi, Sigma Nu and Zeta Tau Alpha. 
Signs will be placed around campus on Friday to help direct visitors to each open house, or download the Samford Homecoming Guidebook Guide to view location details on mobile devices. 
Olivia Odom is a journalism and mass communication major and a news and feature writer in the Division of Marketing and Communication.