Published on November 11, 2016 by Philip Poole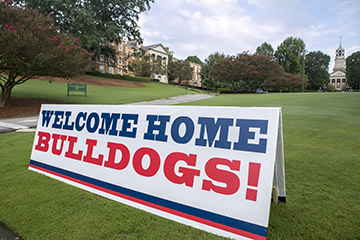 Actively engaging Samford University alumni with the university was a theme of meetings held during 2016 Homecoming weekend Nov. 10–13. 
At the Samford Alumni Association meeting, which drew a cross-section of alumni from several decades, association president Todd Carlisle '88, J.D. '91, said the university has asked the association to develop ways to intentionally connect all alumni. The initiative comes at a critical time for the university as it unveils a new campus master plan and launches a major fundraising campaign in the coming weeks. 
"The university has asked us to focus on developing the alumni association for alumni by alumni," Carlisle said. "This means building a community among the Samford family where we can genuinely transfer the love and care we had as students to the next generations." 
Helping alumni stay connected with the university is key to success, Carlisle emphasized, while building enthusiasm for the exciting things happening on campus.
"Samford means different things to different people based on when they were here," he added, so we must contextualize that to what Samford is today." 
Carlisle spoke of his own commitment to being a mentor to young alumni. 
"If I can find young alumni in whom I can invest time, my only admonition to them is that they do the same with someone else," he explained. "If each of you is effective in doing that with one other person, we double the number of people in this room. The multiplication effect means we will need a bigger meeting room." 
In response to Carlisle's suggestion, Wendy Feild '99 of Vestavia Hills, Alabama, said "Ask someone to do something with you related to the university." 
An open forum during the association meeting yielded several comments and ideas about how to accomplish the association's goals.
Chip Colee '90 of Montgomery noted that "for big events on campus, what I hear widely is 'I want to connect with my friends.'" He suggested using technology to more intentionally connect people by affinity group, which doesn't always mean their class year. 
Lauren Cantrell McCaughren '07 of Mobile noted that it is harder to find fellow alumni outside Birmingham. "Reaching out to the alumni office for names of people in your area is an important way to connect," she added. 
Several attendees talked about the importance of communication with alumni, and Carlisle specifically mentioned the monthly Alumni Minute e-newsletter, the alumni website and regional chapters as great ways to connect and communicate. 
Other ideas being discussed include community service projects and family-oriented events.
"There is an excitement that is on the campus right now," Carlisle said. "It's not so much about the buildings but what is going on in the buildings. We have a chance to continue telling that story as we work to build our association."