Published on November 14, 2016 by Sean Flynt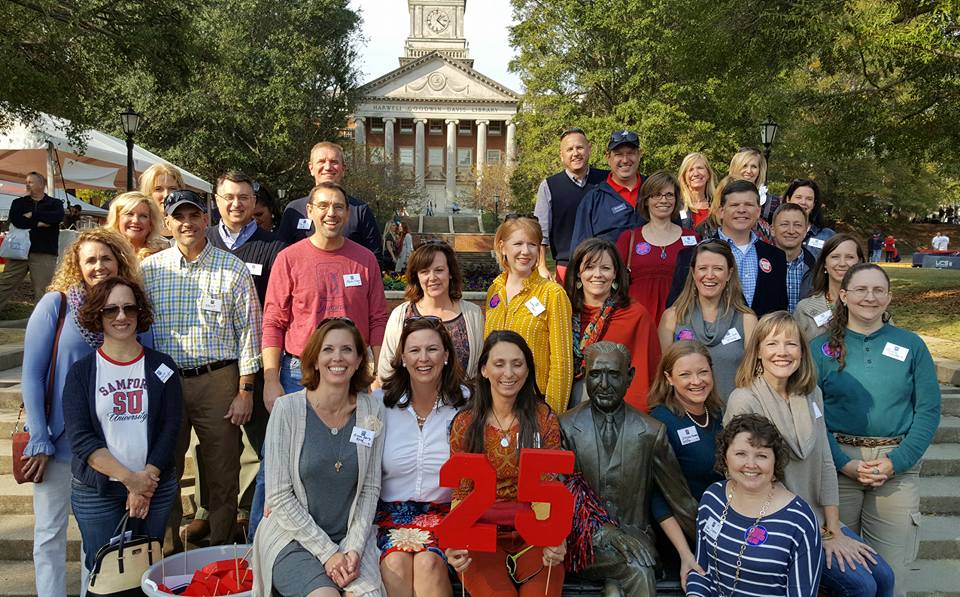 Samford University's Class of '91 gathered for its silver anniversary on homecoming Saturday Nov. 12. At a tailgate luncheon and evening dinner, the classmates noted exciting changes in the university, recalled highlights of their student experience and, in some cases, related them to the experiences of their own children who followed them to Samford.
Danielle Walther of Atlanta, Georgia, has followed her alma mater mostly through alumni communication. "I love Seasons magazine," Walther said. "It lets me keep up with what my classmates have been doing and lets me see what's going on on campus, but there have still been surprises when I have come back."
The former international relations major traveled extensively with Samford, spending a semester at Daniel House in London, visiting Russia and experiencing the 1989 trip that was derailed by China's crackdown on its nascent democracy movement. At homecoming this year, she marveled at the wealth of immersive internship opportunities available to current students, especially overseas. "I'm jealous," Walther said. "Being able to put that in your résumé and have that in your life experience—that's what gets you places."
Deena Haynes Weston of Montgomery, Alabama, helped organize the silver anniversary events. She and husband, David '88, have visited Samford often over the years, especially since their daughter Sarah is now a junior in Samford's Brock School of Business and active in the Student Government Association. "I don't know that we ever really left Samford," Weston joked.
Weston, a former psychology major, also noted the importance of learning experiences outside the classroom. Interested in drug and alcohol counseling, she confirmed that calling through an internship and had her dream job lined up before graduation. She sees her daughter headed for the same experience. "She's already making those kinds of connections. I can already see that she's going to be employed before she leaves," Weston said.
Weston also sees a consistency of mission at the university. "Probably my favorite thing about Samford, then and now, is that it doesn't really matter what our degree is. They're training us to be missionaries, to represent Christ well wherever we are."