Published on November 15, 2016 by Polly Manuel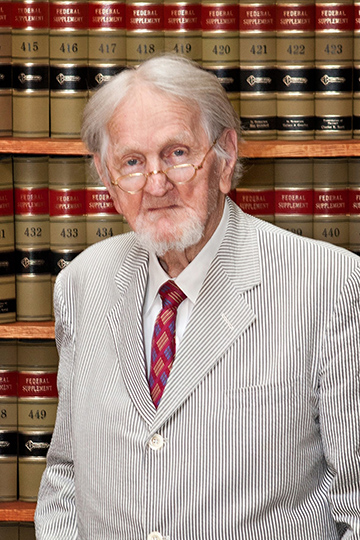 Samford University's Cumberland School of Law welcomed renowned criminal defense attorney Bobby Lee Cook to campus as its 2016 Lawyer-in-Residence Nov. 10. 
Cook shared many of his experiences as a trial lawyer with students, employees, the Birmingham legal community and members of the American College of Trial Lawyers who were in town for the Jere F. White Jr. Trial Advocacy Institute Nov. 11. Cook served as the keynote speaker at the inaugural Institute in 2012.
A trial lawyer who has practiced for more than 65 years will have plenty of great stories, and Cook did not disappoint. He recounted his start as a litigator in the 1940s, and how he has represented both rich and famous clients, as well as what he described as "hapless hometown defendants."
Cook regaled the audience with stories, including the details of a recent trial victory of which he is particularly proud that directly benefited hundreds of retired Georgia teachers. He represented the retirees who contended that the Teachers Retirement System incorrectly calculated their monthly retirement pay by using the wrong mortality tables. Cook recovered millions of dollars on behalf of the retired teachers, effectively reimbursing retirement funds upon which they were dependent. 
Although Cook's law office was close to the Summerville, Georgia, farm where he grew up, his cases have taken him throughout the country and the world, including Germany, Vietnam and South Korea. He has tried thousands of cases, including more than 300 murder trials. In addition to being nationally recognized as a defense attorney, Cook was the inspiration for the television character Matlock and represented the client at the center of the best-selling book, Midnight in the Garden of Good and Evil. 
Cook closed by encouraging the young lawyers in the audience to improve the justice system by seeking opportunities to try cases in front of juries. 
Cumberland's School of Law's Lawyer-in-Residence program annually invites a distinguished graduate or friend of the law school to visit campus, speaking to classes related to his or her area of expertise. The program is an excellent opportunity to allow students to augment the traditional curriculum with the experiences of current practitioners. 
Polly Manuel is marketing and communication coordinator for Cumberland School of Law.